Travel Philippines - Your Choices for Tour Destination Spots and Attractions

If you want to travel Philippines by foot, by plane, by boat or by our popular old school yet enjoyable jeepney, you must be up for an exciting destination. Known for its beautiful resorts and travel places in Luzon, Visayas and Mindanao, the country is truly a diversity in terms of natural beauty.
This is what it is about Philippines. While some would definitely enjoy a horseback ride or a carabao cart drive to the forest, a sure first stop over is the official website of the Department of Tourism - www.toursim.gov.ph for people looking to visit our country.
It is the home of countless tourist spots and destinations, calendar of events of festivals, information on planning a trip, selecting a destination, top things to do, immigration issues, people, history, culture, climate, flight information and more.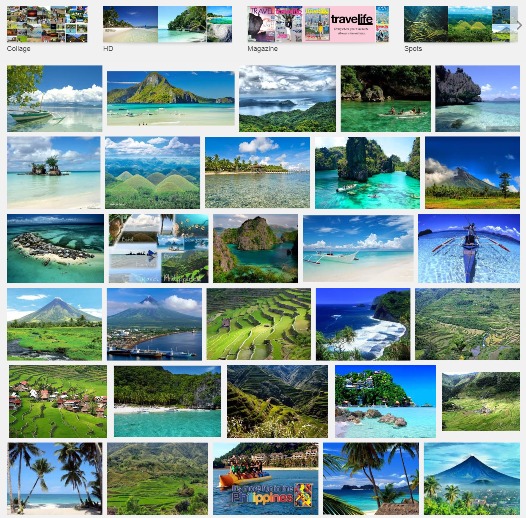 You do this is of course, after you already came up with a plan back from where you came from in your country. It is good to let you know though that there is a vast array of choices to find out and see what Pilipinas had to offer to travelers from a foreign land looking to have fun and enjoy nature at its best twined with relaxing quiet travel places that are jam packed with the serenity. It has always been that which one is surely looking for in a tourist destination and we know you deserve to get it. If you are up for one, allow us 3 (Sam, Ana and TJ) to take you to our journey as we showcase your choices and options for a complete package travel Philippines tour.

Itinerary Samples Tour Packages Promo and Where to Stay

An important part of your travel Philippines intention is preparing a list of itinerary doable tasks for time management as well as tour packages and promo offers so you can get your paradise travel at its cheapest available.
If you are lucky, we might be able to provide just a specific itinerary list sample for the place you wanted to visit in the Philippines or a travel agency to book your flight and stay especially if you are coming from another country.
Be sure you know your purpose. You can either just enjoy our resorts and beaches, come and retire to the Philippines, meet single Filipina (or perhaps one of the sweet and loving Cebu girls)

Itinerary

If you are Pinoy, we believe that for as long as it is your first time to see a beautiful tourist spot that you are still going to need an itinerary guide. Allow us to help you with our own list which will include places to visit, top 10 things to do and top 10 food you shouldn't miss in the place.
Tours and Promo
Nah! Our family believes that the best things in life are FREE but if you are to travel Philippines, you have to think of spending just the right peso for anything that's worth your pocket. Put in mind that there is probably nothing cheaper than knowing where to go, preparing for it, packing the right stuff and getting accommodated with the right places from dining and food to eat, hotel to stay, tours to buy, cheap flights to book and best of all talking to the right people. The 3 of us would love and be glad to provide you just what you need with those using this website.
Your advantage? We talk, speak and know our way in the Philippines! (Well of course that is apart from us being honest, courteous, happy and loving people) Nothing more, nothing less. We're not Filipino tour guides but if you need one, we'd be happy to escort you around and accompany you. We don't charge anything for it so be courteous to ask 1 month in advance so we can prepare. We have our jobs too like any ordinary people looking to live and fend for their needs as humans. One more thing. We do not charge any fee but in return, YOU HAVE TO PAY FOR OUR ACCOMMODATION, FOOD, TRANSPORTATION and EVERYTHING ELSE and MOST IMPORTANTLY, PROMISE TO TREAT US LIKE PEOPLE by signing a simple humanitarian contract. We promise you'll enjoy your trip and need to travel Philippines. You'll be back for sure.

Booking for Stay
Staying at the right place is always part of a hassle-free, carefree, happy trip to a nice paradise like the Philippines. Traveling to an absolutely foreign land will sometimes make you hesitant because of simple problems like not knowing where to stay best or look for a hotel or any other accommodation available in a tourist spot or place you want to visit. We have so many options from coastline beaches, nature parks and marine sanctuary viewing by diving so be prepared.
Whether you are Pinoy or foreigner alien to our land looking to travel Philippines, we surely have a place for your booking stay. Although we cannot always promise you the greatest stay accommodation in your life, you can always rely on our judgement and experience as told. We may not give 100% guarantee because we are not the people running the hotel and booking-for-stay industry but we will always do our best to give honest hotel reviews based on actual experience and how we felt while staying, dining and celebrating in them.
Our family have been and seen some of the best hotels in Manila as well as some popular tourist destinations like Boracay, Cebu, Palawan, Puerto Princesa and Bohol and if you'd allow us, we will tell a story beyond what online reviews reveal to aspiring tourists looking to travel Philippines so hop on.

Guide for People Looking to Travel Philippines

Itinerary Samples


Eat and Dine


Tour Packages


Booking for Stay


Tour Promos


How To Guides

---
Philippines Resorts and Hotels

Beach Resort




Conference

Resort

Honeymoon Resort

Spa Resort




Pool

Resort

Casino

Resort

Manila Casino Resort

Cebu Casino Resort

All Inclusive Resort




Around the World




Hotel

Resort

Luxury Hotels
5 Star Hotels
4 Star Hotels
3 Star Hotels
2 Star Hotels
Affordable Hotels

Cheap Hotels
Low Cost
Cheapest Hotels


Hidden Resort




Wedding Resort




Weird Destinations



---
Philippines Restaurants Specialty Dining and Cheap Fastfood Chains

Pinoys love eating and food. The same reason why we have our own set of Filipino food recipes. We love smorgasbord eat all you can and a lot of rice on the dining table. Below is our own list of exotic food restaurants, unique dining venues, street food, fastfood places, self-seve food courts in malls and romantic places to eat and experience a different eating venue not just in Manila but all over the country.

Transportation Waypoints Guides for Land, Sea and Air Fare

International or domestic flights, we have it for your trip to fun going to the best places in the provinces of Philippines or in Manila. This is our family's land and pride so allow us to give you insights based only on what we know, experience, see and have read and searched online. We have Cebu Pacific Airlines, Philippine Airlines, Tiger Airways, Zest Air, AirPhil Express and more. We will be posting about the latest cheap flights and promo flights and is specially going to watch the hot 1-peso flight promo of Cebu Pacific and we will post it for you so you'll have an easy way when you travel Philippines. Welcome and Mabuhay! It's more fun in the Philippines!

---
Reminder:

Clicking

Blue links

will lead you to our full list collection.
Clicking

Green links

will lead to specific list as posted in the title.

| | | |
| --- | --- | --- |
| Land Travel | Sea Travel | Air Travel |
---
Our Swimming Pool and Beach Resorts

---
Provincial Tourist Attractions and Hidden Places to Visit

| | | | | | |
| --- | --- | --- | --- | --- | --- |
| Manila | Davao | Palawan | Cebu | Bohol | |
---
Philippines Festival and Fiesta Celebration Schedules and Venue Provinces

One of the best destination and tourist attractions in our country is the celebration of Philippines festivals. If you want to travel Philippines, below is a list of schedule and venue provinces where they are celebrated in the calendar year.
List of Festivals in the Philippines
Apribada -- Donsol, Sorsogon -- 4th week of January
Arya! Abra Festival -- Abra -- March
Ati-atihan Kalibo -- Aklan -- 3rd weekend of January
Bayluhay Festival -- San Joaquin, Iloilo -- 3rd Saturday of January
Black Nazarene -- Quiapo, Manila -- January 9
Biniray - Romblon - January 9
Bonok-Bonok Festival -- Surigao -- September
Carabao Festival San Isidro, Nueva Ecija; Pulilan, Bulacan; Angono, Rizal May 15
Caracol sa Makati -- Makati City, Manila -- last Sunday in January
Catandungan Festival Catanduanes October
Chinese New Year Chinatowns Late January or early February
Cutud Lenten Rites San Fernando, Pampanga April
Daro Sinulog - Dumaguete, Negros Oriental - 3rd week of January
Dia de Zamboanga Festival Zamboanga City February 26
Dinagyang Iloilo City 4th Sunday of January
EDSA Day -- Mandaluyong City -- February 25
Flores de Mayo Nationwide Month of May
Festival of Hearts -- Tanjay City, Negros Oriental -- February 14
Grand Cordillera Festival Baguio City November
Helubong Festival Lake Sebu, South Cotobato Second week of November
Hot Air Balloon -- Clark Subic, Zambales -- February 9-12
Ibalong Festival Albay Second week of October
International Bamboo Organ Festival Las Piñas Church February 15 to 25
Kaamulan Festival Malaybalay, Bukidnon Late February to early March
Kadayawan sa Dabaw Festival Davao City 3rd week of August
Kagayhaan Festival Cagayan de Oro August 28
Kahimonan Abayan Festival Butuan City July
Kalilangan Festival -- General Santos City -- 4th week of February
Kansilay Festival Silay City, Negros Occidental November 5 - 13
Kinabayo Festival Dapitan City July 24
Lantern Festival San Fernando, Pampanga December 24
Lanzones Festival Camiguin October25-28
Lingayen Gulf Landing - January 9
Lubli-Lubi Festival Calubia, Leyte August 15
Maradjao Karadjao Festival Surigao City September
MassKara Festival Bacolod City Third weekend of October
Misa de Gallo Nationwide Starts December 16
Moriones Festival Boac, Mogpog & Gasal, Marinduque Holy Week
Mudpack Festival Murcia, Negros Occidental June 24
Our Lady of Candles Festival Jara, Iloilo February 2
Pagoda Festival Bocaue, Bulacan July
Pahiyas sa Quezon Sariaya, Lucban, Tayabas in Quezon May 15
Palo-Palo Festival Batanes August
Pamulinawen Festival Laoag City, Ilocos Norte February
Parada ng Lechon Balayan, Batangas June 24
Peñafrancia Festival Naga City, Camarines Sur 3rd Saturday of September

Panagbenga

(Baguio Flower Festival)

Baguio

Flower Festival Late February - Early March
Piat Sambali Festival Cagayan Last week of June
Pilgrimage on a Caravan La Union, Pangasinan Lenten Month
Pintados-Kasadyaan Festival Tacloban, Leyte June 29
Pinta Flores Festival San Carlos City 3-5 November 3-5
Pinyahan sa Dael Daet, Camarines Norte June 15-24
Sagayan Festival Tubod, Lanao del Norte First week of July
San Clemente Higantes Festival Angono, Rizal November 23
Sandugo Festival Tagbilaran City July 1-2
San Fernando, La Union Festival -- La Union -- February 7-10
Santacruzan Nationwide Month of May
Sarakiki Hadang Festival Calbayog City, Samar September 7
Sayaw sa Obando Obando May 17, 18, and 19
Shariff Kabunsuan Festival Cotabato City Third week of December
Sinukwan Festival San Fernando, Pampanga Early December
Sinulog Cebu City, Cebu 3rd Sunday of January
Sinulog de Tanjay Festival Tanjay, Negros Oriental July
Suman Festival -- Baler, Aurora Quezon Province -- 3rd Week of February
Sumbali Festival Bayombong, Nueva Viscaya A Week in August
Taong Putik Festival Aliaga, Nueva Ecija June 24
Tawo-Tawo Festival -- Bayawan City -- February 17
T'boli Tribal Festival Lake Sebu, South Cotobato September
Tinagba Festival Iriga City, Camarines Sur February 11
Turumba Festival Pakil, Laguna Week before Holy Week
Vigan Town Fiesta -- Vigan Ilocos -- January 25
Zamboanga La Hermosa Festival Zamboanga City October 1-12
Zambulawan Festival Pagadian, Zamboanga del Sur 3rd Sunday of January
---
Tourist Guides People and Agencies who Could Help

The department of tourism is the agency that can definitely help you with respect to your desire to travel Philippines. You can either visit their official website at toursim.gov.ph or call their hotline telephone numbers or send an email. A tourist guide that licensed, registered or those who are qualified and know how to speak English (to the least) and know how to travel Philippines is absolutely an additional must in choosing your travel companion. I'm not so sure where yet you can get these kinds of people but if you are to travel Manila or Boracay or Aklan, our family can definitely help. Just use our Contact Us page above.

Search & Travel Philippines Using Google Maps

If you are to travel Philippines, surely, you would be using a guide to search for beautiful places. In that case, we strongly suggest that you go check out our Philippines Maps page. It will definitely help you find your destination.

Reminder:
Click on the "View Larger Map" blue link to see a big picture of the Philippines in the eye of Google Maps.

View Larger Map
It's always nice to prepare before you travel Philippines and see it's beauty. We surely have humongous-sized fun waiting for you so Choose Philippines!