Filipino Recipes - Traditional Philippines Food and Authentic Cooking Menu for Dining and Diet
The history of Filipino recipes of diverse Philippines food list is truly of a wide variety. It can compare to what marine life our country has in the numerous protected reefs of our seas in the Pacific Ocean. Here we simply call it as panlasang Pinoy. It can be rooted to the fact that we are a tropical country where plants and I'm glad to say cooking herbs and spices dwell and grow in its wild forms in the forest and yes, even on the side streets. Kulitis for one is a family favorite and a great nutrient-rich resource for good green salad recipes whereas if you cook chicken, pork or beef recipes in sauce, it can definitely add up some green beauty as a side dish and additive. Read our family's traditional recipe reviews with pictures.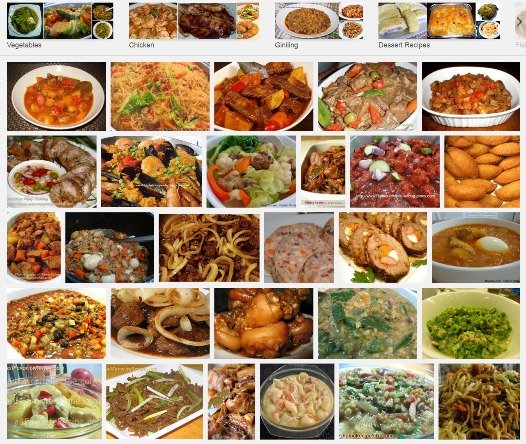 There are absolutely lots of cooking ingredients very few Pinoys would comprehend and understand would be ideal and nutritional to use in their daily life of cooking in the kitchen. Hence, compromising what benefits we can actually get out of using these hidden secrets in the growing herbs in the garden. Mind you, we don't have 1 but countless of them growing wild on our stepping feet and we don't know it.

The purpose therefore of this page is to teach Pinoys how to cook healthy, all natural, organic diet recipes that will surely spice up their life like what our family has been enjoying growing garden-fresh vegetables that are organic grown and naturally nourished in a container gardening manner that definitely not just earth and environment-friendly but also the safest and most nutritious and delicious of all Filipino recipes and food that can be laid on the layman's dining table.
Our family, the Casuncads have been preaching and teaching through this website About Philippines to turn down, chemically produced foods and instead go for Raw Organic and Naturally grown vegetable eating diet. We've never been sick for almost 5 years now, not even the simplest cold can catch us all 3, Ana TJ and me, Sam, unguarded even during heavy rainy seasons in the Philippines from May-December.
By now, our family is sure you are all excited to see what we do to make our Filipino recipes and cuisine in the dining table a hearty healthy meal so by all means, take a quick peek and see our large list below. Clicking on a link will lead to what we eat at home yesterday, today and tomorrow. We are no hardcore vegetarians but we make sure our Filipino recipes / dishes collection form part of Philippines culture and that they are cooked with occasional touch of healthy additives for your dishes to pump up your anti-bodies and prevent you from getting sick like we do.

Complete Filipino Recipes Categorized According to Main Ingredient

When we cook, we always make sure to find the best main ingredient in our dish. Therefore it is but right to find the perfect, most fresh and top quality ingredients, condiments and spices to use. It's the same reason we have categorized the different Pinoy dishes according to what main ingredient the recipe uses. Enjoy!

Fish Recipes
Vegetable Recipes
Cocktail Recipes
Appetizer Recipes
Raw Food Recipes
Dog Food Recipes
Healthy Recipes
American  Recipes
Thai Recipes
Japanese Recipes


Chicken Recipes

Spaghetti Recipes

Soup Recipes

Baby Food Recipes

Weight Loss Recipes

Indian Recipes

Korean Recipes

Asian Recipes

Spanish Recipes




Beef Recipes
Pork Recipes
Salad Recipes
Seafood Recipes
Shrimp Recipes
Easy Recipes
Finger Food Recipes
Chinese Recipes
Italian Recipes
Mexican Recipes

If you liked our feature here at Filipino recipes page, please don't forget to show your love and share it with friends and family. We have an array of choices to do that using your social media and networking profiles below.
Go ahead and show you appreciate our information! Share It!

Common Herbs, Spices, Ingredients and Side Dish Sprinkles that Spice and Liven Up Our Authentic Filipino Dishes

We all know that Asia is probably one of the biggest producers and source of all sorts of herbs and spices that is used in every regular and special cooking sessions in the world happening right now.
China for one has probably populated the list of authentic and never-heard ingredients used to cook the traditional menu probably up to 90% (by estimate). India is another great resource while the Philippines had its own list growing from age-old cooking Filipino recipes straight from food blogs and bloggers out there.
We have listed some of the most commonly found in the country below and we will continue to grow them as go along. Enjoy!

List of Herbs


Onion Leeks

Garlic Leaf

Bay Leaf
Rosemary
Tarragon
Oregano
Basil
Lemongrass or Tanglad
Pandan Leaf
Kasubha
Parseley
Onion Sprout
Mint
Thyme
Sage


List of Spices


Ginger Root
Onion Bulb
Chili
Atsuete
Turmeric Bulb
Calamansi (substitute to lime)
Yellow lemon