Philippines Festival - Colorful Traditional Celebrations in Provinces
See and witness our Philippines festival celebrations in different provinces through our family's reviews and photos we find through online search. These celebrations is also one that makes up about Philippines and our island as a colonial country that is influenced by diverse beliefs. Celebrating festivals is one of them.
Learn how tradition will dramatically change the way you see our country with our big list of celebrated festival in the Philippines. We promise to include videos if there is anything we can find in YouTube so you will fully understand how Filipinos celebrate feasts more than the Spaniards who taught us to embrace this as part of our people's culture.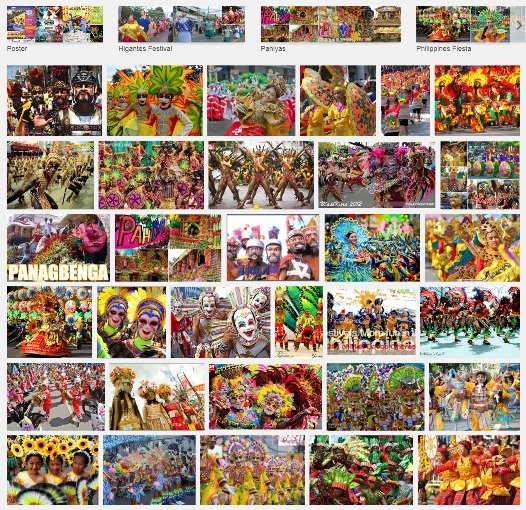 Characterized by each of their uniqueness, the fiestas we celebrate is whole year through. Proof that Pinoys love to celebrate, be merry and bountiful in so many sense. We love celebrating the idea of diversity of culture in our people of different languages and dialects spoken.
To fully enjoy, though, you have to personally witness how the feasts are done and when is the best time to visit and tour Philippines to enjoy the best and most colorful events in our country from January - December.
Complete List of Different Philippines Festival - Schedule & Date of Celebration and Place

We have asked the old people, our lolo and lola for what they can remember of the Philippines heritage when it comes celebrating feasts and fiesta. We also have searched online and found this list as compiled by the Casuncad Family album with pictures. Click on a festival to see more details from photos, video and highlight of the celebration.

List of Festivals in the Philippines
Apribada -- Donsol, Sorsogon -- 4th week of January
Arya! Abra Festival -- Abra -- March
Ati-atihan Kalibo -- Aklan -- 3rd weekend of January
Bayluhay Festival -- San Joaquin, Iloilo -- 3rd Saturday of January
Black Nazarene -- Quiapo, Manila -- January 9
Biniray - Romblon - January 9
Bonok-Bonok Festival -- Surigao -- September
Carabao Festival San Isidro, Nueva Ecija; Pulilan, Bulacan; Angono, Rizal May 15
Caracol sa Makati -- Makati City, Manila -- last Sunday in January
Catandungan Festival Catanduanes October
Chinese New Year Chinatowns Late January or early February
Cutud Lenten Rites San Fernando, Pampanga April
Daro Sinulog - Dumaguete, Negros Oriental - 3rd week of January
Dia de Zamboanga Festival Zamboanga City February 26
Dinagyang Iloilo City 4th Sunday of January
EDSA Day -- Mandaluyong City -- February 25
Flores de Mayo Nationwide Month of May
Festival of Hearts -- Tanjay City, Negros Oriental -- February 14
Grand Cordillera Festival Baguio City November
Helubong Festival Lake Sebu, South Cotobato Second week of November
Hot Air Balloon -- Clark Subic, Zambales -- February 9-12
Ibalong Festival Albay Second week of October
International Bamboo Organ Festival Las Piñas Church February 15 to 25
Kaamulan Festival Malaybalay, Bukidnon Late February to early March
Kadayawan sa Dabaw Festival Davao City 3rd week of August
Kagayhaan Festival Cagayan de Oro August 28
Kahimonan Abayan Festival Butuan City July
Kalilangan Festival -- General Santos City -- 4th week of February
Kansilay Festival Silay City, Negros Occidental November 5 - 13
Kinabayo Festival Dapitan City July 24
Lantern Festival San Fernando, Pampanga December 24
Lanzones Festival Camiguin October25-28
Lingayen Gulf Landing - January 9
Lubli-Lubi Festival Calubia, Leyte August 15
Maradjao Karadjao Festival Surigao City September
MassKara Festival Bacolod City Third weekend of October
Misa de Gallo Nationwide Starts December 16
Moriones Festival Boac, Mogpog & Gasal, Marinduque Holy Week
Mudpack Festival Murcia, Negros Occidental June 24
Our Lady of Candles Festival Jara, Iloilo February 2
Pagoda Festival Bocaue, Bulacan July
Pahiyas sa Quezon Sariaya, Lucban, Tayabas in Quezon May 15
Palo-Palo Festival Batanes August
Pamulinawen Festival Laoag City, Ilocos Norte February
Parada ng Lechon Balayan, Batangas June 24
Peñafrancia Festival Naga City, Camarines Sur 3rd Saturday of September

Panagbenga

(Baguio Flower Festival)

Baguio

Flower Festival Late February - Early March
Piat Sambali Festival Cagayan Last week of June
Pilgrimage on a Caravan La Union, Pangasinan Lenten Month
Pintados-Kasadyaan Festival Tacloban, Leyte June 29
Pinta Flores Festival San Carlos City 3-5 November 3-5
Pinyahan sa Dael Daet, Camarines Norte June 15-24
Sagayan Festival Tubod, Lanao del Norte First week of July
San Clemente Higantes Festival Angono, Rizal November 23
Sandugo Festival Tagbilaran City July 1-2
San Fernando, La Union Festival -- La Union -- February 7-10
Santacruzan Nationwide Month of May
Sarakiki Hadang Festival Calbayog City, Samar September 7
Sayaw sa Obando Obando May 17, 18, and 19
Shariff Kabunsuan Festival Cotabato City Third week of December
Sinukwan Festival San Fernando, Pampanga Early December
Sinulog Cebu City, Cebu 3rd Sunday of January
Sinulog de Tanjay Festival Tanjay, Negros Oriental July
Suman Festival -- Baler, Aurora Quezon Province -- 3rd Week of February
Sumbali Festival Bayombong, Nueva Viscaya A Week in August
Taong Putik Festival Aliaga, Nueva Ecija June 24
Tawo-Tawo Festival -- Bayawan City -- February 17
T'boli Tribal Festival Lake Sebu, South Cotobato September
Tinagba Festival Iriga City, Camarines Sur February 11
Turumba Festival Pakil, Laguna Week before Holy Week
Vigan Town Fiesta -- Vigan Ilocos -- January 25
Zamboanga La Hermosa Festival Zamboanga City October 1-12
Zambulawan Festival Pagadian, Zamboanga del Sur 3rd Sunday of January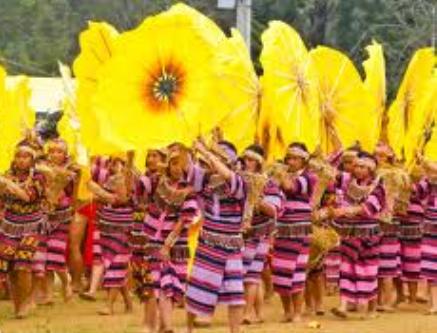 The list of Philippines festival above is a product of careful collection of data on the internet by our family. We certify that is in its most complete information as provided and may be seen from other websites but compiled in an easy-to-understand and comprehend list. Each link will lead you to a particular feature fiesta with all the possible information you could be looking for including Philippine maps.
To visit a particular province of interest to celebrate with the people on their local festival, please consult our other pages that features cheap and affordable accommodation choices for hotels and other interesting things to do in resorts while in a particular province in an attempt to travel Philippines. Maximize and enjoy our 7,100 islands so you can finally say that indeed, "it's more fun in the Philippines".

If you want to copy our list, please give credit when credit is due. Save yourself some dignity in taking what is rightfully ours in the first place so get more than what you gave in return. It's a give and take world.