Venues and Events Places in Manila and the Philippines

Get mezmerized with the unexplored awesome event venues in Manila, Philippines. We have a directory listing of secret awesome places you would really want to celebrate your special occasion as well as those that you may already know but is looking for the reservation options, different rates, charges and fees to pay.
Options for package and promos to avail will also be featured as we develop this page to turn into a center for Pinoys looking for a great way to enjoy celebration while staying on a budget pocket-conscious state as we reveal cheap options to hold your event.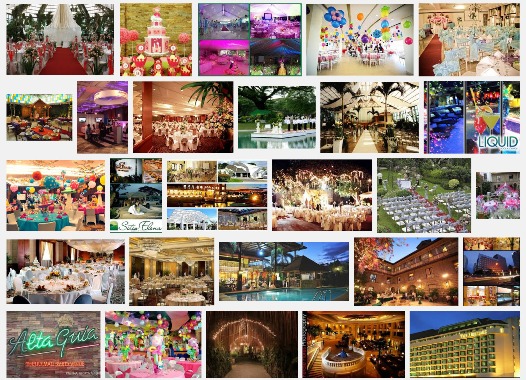 Our family lives in the Philippines and to search and review some of these venues is simply a privilege for us. We love going places and adoring and taking pictures of beauty. We are looking forward to provide you choices for cheap packages, affordable rates, unique & compelling ideas for your celebration.

We've been to different occasions and events ourselves and combining our actual experiences and online geekiness, we hope to be able to provide one of the largest collection (list) of nice locations for your wedding, event reception, debut, party, birthday, Christmas ball, family reunion, concert, conference meetings, team building, baptism and more. Read our reviews of these event places below by clicking the respective links.

Directory Listing for Venues in the Philippines

Quezon City
Cavite

Las Pinas
Paranaque

Beach Spots
Farm Spots
Resort Pool Spots


Makati
Manila
Laguna
Rizal

Garden Spots
Outdoor Spots

---
Directory for Special Occasion Events Places

Wedding
Debut
Party
Reception
Conference Meeting


Concert
Christmas Ball
Birthday
Baptismal
Team Building

Events Place and Management Ideas

My tatay Sam had friends who is in the business of event management and coordinator - ship. He had the experience of being his friend and has been exposed to many event organizing procedures before. Examples of this upon me interviewing him are, grand alumni reunion, birthday, anniversary celebration and preparing itinerary in the countless travels he'd been with his friend.

Top 50 Ideal Garden Venues in Manila

Whether you have a garden wedding, a beach wedding, a farm debut celebration. We will cover you up with exciting locations and spots for your event. We'll help spice it up depending on your budget by featuring events places fit for your pocket money and provide packages that you never imagined would be included in your reservation and accommodation options. Helping you make your expenditures the cheapest possible and affordable as you wish it.