Photo Gallery About Philippines - Our Family's Personal Collection

This is our Philippine photo gallery and it tells everything about our beloved country and its people. Here is where we keep all the memories that we have been through all these years and this is where you will see how amazing and unique people we are, not just as proud Filipinos but also as individuals who love nature and the world as it is. Living on an earth-friendly scape called as the land of the rising sun with 7,100 islands (more or less during low and high tide of the sea), we welcome you to visit the Philippines. Enjoy and be fascinated! - Sam, Ana and TJ

Manila Tourist Spots and Photos

Manila is full of live being the center city of the Philippines. Life here starts early for Filipinos and if you are a foreigner who is soon to visit our country, your very first destination would usually be Manila. It is where you can find most of the comforts that you've probably gone used to living in your country. Nearby airports and travel routes all point here so a backpacker would also refer to the metro as the starting point of all walks and travel in the Philippines. Below are photos of some of the most popular tourist spots.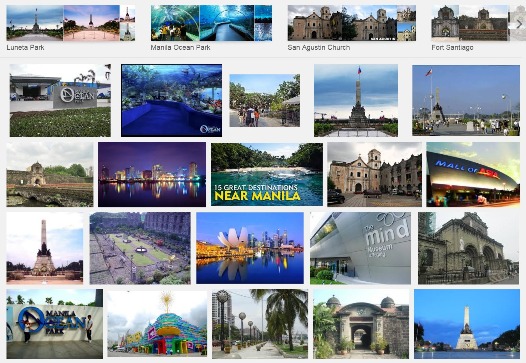 Baguio Photo Gallery

From the Baguio Cathedral to the best Baguio hotels, transient houses and restaurants, our family has surely enjoyed this summer capital of the Philippines. The endless tourist spots and the alluring beauty of the strawberry fields in La Trinidad, Benguet has fascinated our family, making us all look forward to buying our own house there. The weather is cold, the place and its people are warm and honest and climate is just perfect for people and business as well.

Boracay Photo Gallery

If you've been to Baguio, the most popular non-resort destination in the Philippines during summer months from February - June, there is no doubt you will enjoy the unique beauty of Boracay. This is the counterpart of Baguio and is the most visited beach resort in an isolated island in the Philippines with powdery fine white sand beaches. Enjoy our photo of the enchanted island below which is just a few minutes away from its airport. Captured is a Japanese girl posing for their own camera. They are a group of 3 women enjoying the hot heat of the summer sun in the Philippines most beautiful beach - Boracay.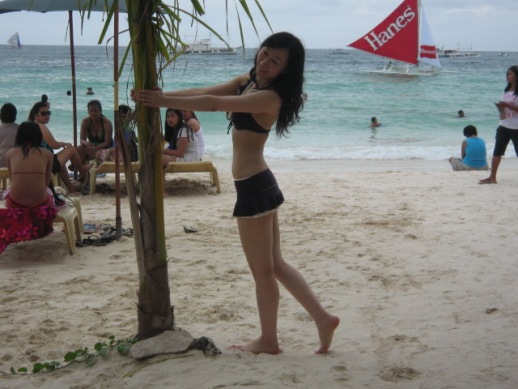 Enjoy Summer Swimming in Antipolo Resorts

If you are the type who hates the outdoors so much and would love a private fun swimming out the heat of the summer sun in the Philippines, a nearby Manila swim would absolutely be fine. Try visiting some of the public and private Antipolo resorts and I'm sure you will enjoy it there more than what you expect for the city in the sky. The weather up the hills of Antipolo is also cold especially at night and you can enjoy overlooking the beauty of Manila at night too.