Song Lyrics - Filipino Songs, OPM with Guitar Chords and Music Video

Presenting our own collection of the most popular Filipino song lyrics. Pinoy songs and OPM pop songs at their best with complete and right wordings, music video and guitar chords rendition from experts for those who want to learn how to play guitar. We will also be featuring here the list of latest and new song release plus official soundtrack of different local teleserye from GMA and ABS-CBN.

Choices are what makes life easier and enjoyable. If you wanted to sing or is looking for an old song or just about any genre you are in to, please hover along each of the song categories below and I'm sure you will find something that might interest you along the way. We will be featuring very old songs from old traditions, music and lyrics of some of the great Filipino composers and singers in the 40's, 50's, 60's, 70's, 80's, 90's and the latest.

Folk Songs
Christian Songs
Gospel Songs
Worship Songs
Phineas and Ferb Songs
Old Songs
Indian Songs
Top 10 Songs


Religious Songs
Christmas Songs
Song for a Friend
Barney Songs
Japanese Songs
Love Songs
Korean Songs
Billboard Songs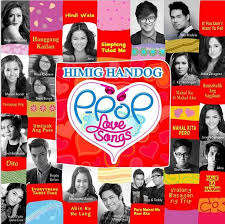 Himig Handog P-POP Love Song Lyrics

A newly launched yearly event for Filipino artists and singers looking to get a glimpse of song writing for an award. Here is where you will find the latest entries to the Himig Handog P-POP Love Songs. Updates, entries, winners and singer artists who were the ones who sang the songs.
2013 Himig Handog P-Pop Love Songs Entries

Here is the list of entries for the first ever Himig Handog P-Pop Love Songs festival. The winner by the way here is the song rendered by Aiza Seguerra - Anong Nangyari sa Ating Dalawa by: Joven Tan. Source: P-Pop

Alaala by Yeng Constantino (Ma. Fe Mechenette, G. Tianga, Melvin Muervana and Joel Jabat Jr.)

Anong Nangyari Sa Ating Dalawa by Aiza Seguerra (Joven Tan)

If You Ever Change Your Mind by Marian Aunor

Tamang Panahon by Win Andrada

Hanggang Wakas by Juris (Soc Villanueva)

Kahit Na by Toni Gonzaga (Julius James de Belen)

Nasa Iyo Na Ang Lahat by Daniel Padilla (Jungee Marcelo)

One Day by Angeline Quinto (Agatha Morallos)

Pwede Bang Ako Na Lang Ulit by Bugoy Drilon (Jeffrey Cifra)

Sana'y Magbalik by Jovit Baldivino (Arman Alferez)

Scared to Death by KZ Tandingan (Domingo Cubelo)

This Song's For You by Erik Santos (Jude Gitamondoc)

2014 Himig Handog P-Pop Love Songs Finalists
So the second set and year of the P-Pop event is finished and so far, below are the list of finalists to this event with some of the judges-chosen best song lyrics.
Akin Ka Na Lang by Francis Louis Salazar from Quezon City
Bumabalik ang Nagdaan by Sarah Jane Gandia from Los Angeles, California
Dito by Raizo Brent Chabeldin and Biv De Vera from Metro Manila
Everything Takes Time by Hazel Faith Dela Cruz from Sampaloc, Manila
Halik sa Hangin by David Dimaguila from Cainta, Rizal
Hanggang Kailan by Jose Joel Mendoza from Mandaluyong
If You Don't Want to Fall by Jude Gitamondoc from Cebu
Mahal Kita Pero by Melchora Mabilog from Laguna
Mahal Ko o Mahal Ako by Edwin Marollano from Muntinlupa City
Pare, Mahal Mo Raw Ako by Jovinor Tan from Quezon City
Pumapag-Ibig by Jungee Marcelo from Pasig City
Seven Minutes by Mary Grace Gabor from Taguig City
Simpleng Tulad Mo by Meljohn Magno from Laguna
Umiiyak ang Puso by Rolando Azor from San Juan
Walang Basagan ng Trip by Eric De Leon from Malabon

New and Upcoming Teleserye OST Song Lyrics and Music Video
Want to know what is the official soundtrack featured songs for a new or old teleserye you love? Here is where we will put all those in a list that is easy for you to hove on and enjoy singing along with the song lyrics and official music video. Because we want you to enjoy your day upon finding our page, we will give you what you are looking for and what you want - simply fun!

Pure Tagalog and Most Requested Songs (MRS)

I remember back in the 80's where I as a teen used to love and listen to a daily regular program called MRS. Here, a most-requested song is being played every hour so if you wanted to hear a favorite song or if you are excited to know what is the latest featured MRS of the week, then this radio program is definitely a must listen to.
They feature both English and Tagalog songs during this time and I can still remember some of the favorite OPM artists that I really love listening to everytime. As a teen, I get my daily dose of a favorite song by Pinoys through MRS radio program. Today, they have their own version of this through the Top 10 songs and Billboard Top of the Charts.