Sample Filipino Fliptop Lines - Best New Tagalog Flip Top Battles w/ Video

Ever heard the lyrics of fliptop lines of popular Filipino rap artists? Here's your chance at getting a glimpse of them. See sample Tagalog flip top lines written and taken from the battles won and lost by popular buffs. Complete with their respective videos taken from YouTube.com watch them in the links below.
Sample Lines & Artists Featured in a Video Battle w/ Lyrics

Apekz Lines

Abra Lines

Bisaya Lines

Dello Lines

Loonie Lines

Badang Lines

SheHyee Lines

Juan Lazy Lines

Tipsy Lines

Icaruz Lines

Mizalyd Lines

BLKD Lines

Third D Lines

Jaffie Lines

Daddy Joe D Lines

Pricetagg Lines

Aklas Lines

J-Skeelz Lines

Negatibo Lines

Caliber Lines

Rish Lines

Thike Lines

Apoc Lines

Harlem Lines

El D'no Lines

Melchrist Lines

Bogchick Lines

Sayadd Lines

Maxford Lines

2Khelle Lines

Aklas Lines

Rapido Lines


Smugglaz Lines

Zaito Lines

Target Lines

Silencer Lines

Sinio Lines

JayTee Lines

Frooz Lines

Jhapormz Lines

Bassilyo Lines

Righteous 1 Lines

Mastamyn Lines

Dhictah Lines

Batang Rebelde Lines

Elbiz Lines

Jade Wunn Lines

Lirikal Lines

Notorious Lines

Crazymix Lines

Batas Lines

Sino Lines

Spade Lines

Malupet Lines

Sparo Lines

Flict-G Lines

Prosecutor Billy Lines

Rudic Lines

Krusa Lines

KJah Lines

Asero Lines

Fonger Lines

Magz Lines

Nico Lines

More fliptop lines to come as we develop this page to feature all Filipino fliptop artists and battles with their respective exclusive YouTube videos. In the meantime, you can also go check some interesting song lyrics we have featured.

Tagalog Flip Top Lines from Popular Pinoy Rap Artists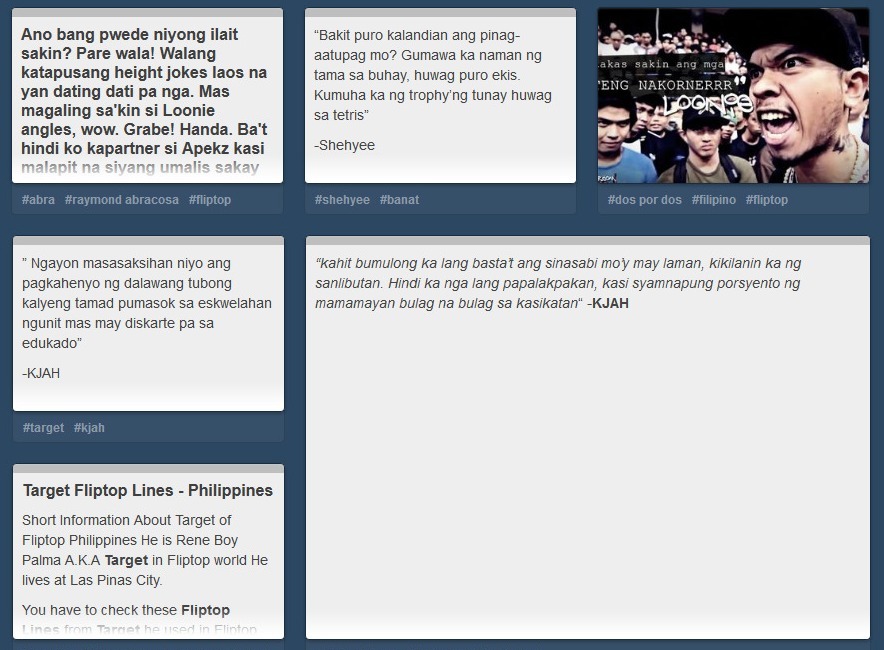 ---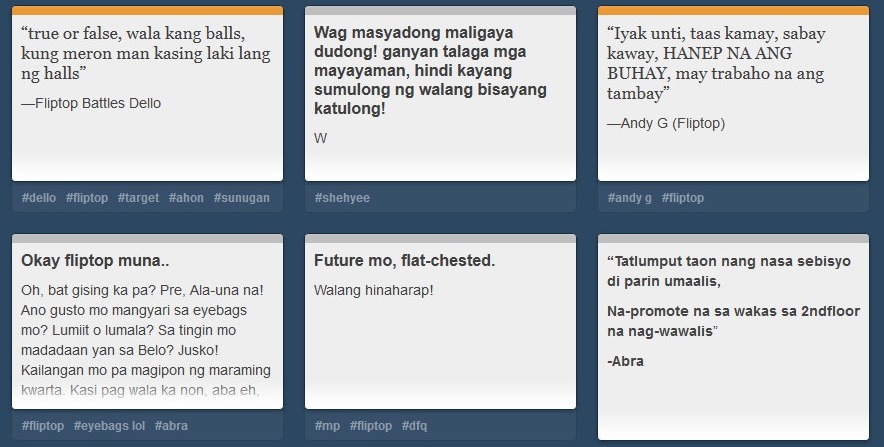 ---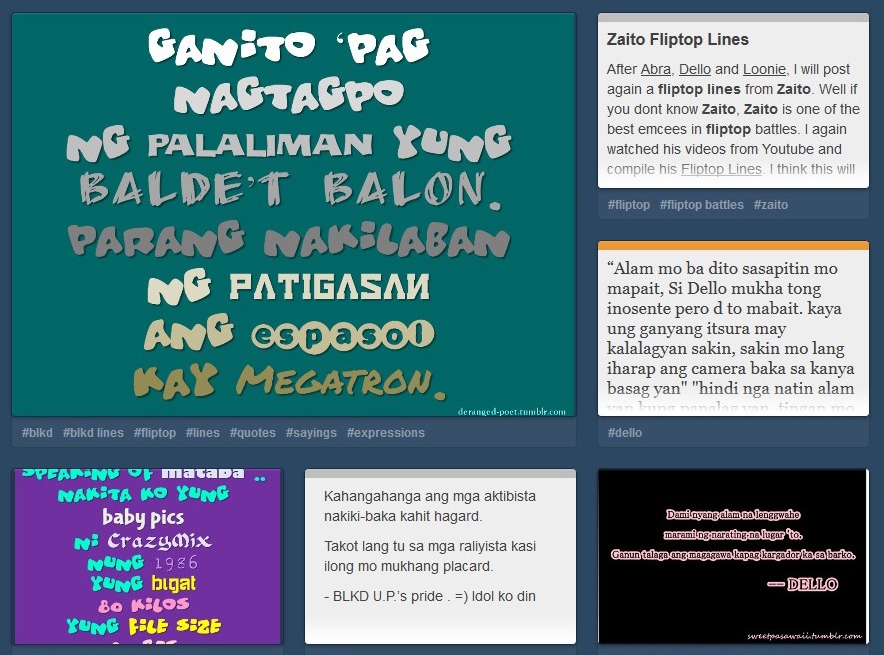 Latest Fliptop Lines Battles Versus Videos 2014

We now have the latest fliptop battles video from Youtube.Com. If you want to get updated to the latest in the rap battle dutdutan subscribe lang kayo mga peeps o kaya visit this page everytime kapag nakapag hulog sa pisonet.
Below is the first I have seen female fliptop artists in the likes of Lil Sia and Hearty as they battle it out with words of wisdom with Rapido and Mocks Wun. Watch also as Vice Ganda sets the mood on the defeated Zaito in the video below in their Showtime 2014 fliptop battle live.

Rapido/Mocks Wun vs Lil Sisa/Hearty tha Bomb March 3, 2014
Vice Ganda Vs Zaito Showtime March 2014

Harlem vs Juan Lazy March 2014
FlipTop Metro Manila presents: Unibersikulo 2 @ B-Side, The Collective, Malugay Street, Makati City, Metro Manila, Philippines. December 21, 2013. Filipino Conference Battle.
Apekz vs Target February 2014

Melchrist/Papew vs Juan Lazy/Harlem @ Dos Por Dos Tournament

Apoc/Dhictah vs Juan Lazy/Harlem @ Dos Por Dos Tournament
J-Skeelz vs Batas
Tipsy D vs Notorious
Crazymix/Bassilyo vs Loonie/Abra @ Dos Por Dos Tournament
Abra vs Zaito (Holiday Release
BLKD vs Apekz

Dello vs Righteous1
Zaito vs Bassilyo
Loonie/Abra vs Shehyee/Smugglaz @ Dos Por Dos Tournament
Shehyee/Smugglaz vs Juan Lazy/Harlem