Baguio City - Your Complete Hotel Accommodation and Tour Guide Directory
A Baguio City tour would usually cost you thousands of pesos even if you travel alone as a backpacker. Knowing your way around before embarking on a bus trip schedule from Manila to the City of Pines is definitely a must for all bypassers and tourists. This page, therefore is dedicated to all who are looking to find valuable information about your dream vacation of a package tour up and about this majestic cold place in the far North of the Philippines.a perfect summer capital destination.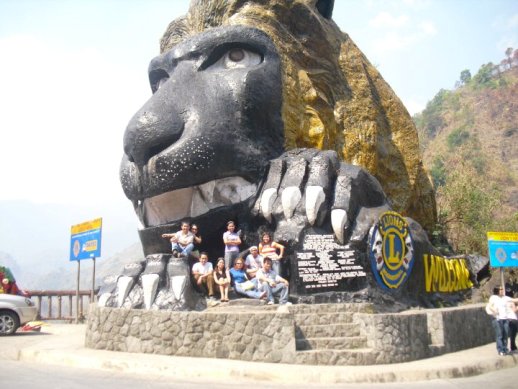 | | |
| --- | --- |
| | To come up with most beautiful pictures of the province and list down accurate hotel rates and accommodation options for a transient house or for your bus terminal ticket reservation buy, we took the challenge to go on a trip this summer year 2013 |
All these just to provide you with the latest, cheapest and affordable options so you know how much it will cost you on your pocket for a travel to Baguio and compare it with tour packages available out there. Our family's journey itinerary as well as yours starts here at MyPilipinas.Com. It's more fun in the Philippines... Welcome and Mabuhay!
Baguio Tour Sample Itinerary

Every journey starts with a plan. No travel would ever come up with an effective plan especially that which will take you to a 4-hour bus ride just to taste the cool morning breeze and early afternoon fog in the first ever mall in the Philippines that has no aircondition without an itinerary. This is our family's own but you and anybody else is welcome to make theirs based from this list. After all, we've got different tastes and preferences in life and these 2 factors will strongly influence the places and tourist spots you want to visit when you come to the highlands.
How to Come Up with A Good Itinerary

Basically, an itinerary would consist of places you would be excited to visit and the top things you want to do during your stay. My Nanay Ana and Tatay Sam had been there last year while I was in Japan so we have the edge.
To start off with a list, you have to know first available tourist spots and travelers experiences like the Panagbenga Festival which is celebrated during the whole month of February where the flowers bloom and are plenty of harvest in Bontoc and Bahong mountains where production and flower producers are plenty. That time, we did not have a list yet so what I did was to use Google's online search.
I Googled for top restaurants and places to visit in Baguio. Read blogs and online reviews from Tripadvisor, Agoda and other authority websites. I took time to see pictures both from Picasa, Flickr, Facebook, Instagram, Foursquare and more but I ended up with most useful of all - Google Images. If you know how to use this, you'll definitely find a good review about any place in the City of Pines as well as see very interesting diversity of photos about any place on earth and Baguio city is not an exemption.
So far, we've come up with these places on top of our list below:
26 Top Tourist Spots & Places to Visit in Baguio in Our Itinerary

We have numbered the top places posted above so you know and have an idea of how we spent and maximized time to prepare and do our itinerary in swift schedules so we won't be wasting any time on a place. After all, we only have 3 days 2 nights for the whole tour we have packaged for our trip.
Hangar Market had to be on top because we rented a transient with a small kitchen and we want to buy and cook our own food so a market visit and buy is necessary. It took us just 30 minutes or so to do everything here plus the taxi ride back and forth our hotel.
Burnham Park

- 13


Hangar Market -

1


Session Road -

8

Camp John Hay Zipline and Outdoors


The Mansion (President's Vacation House) -

3


Wright Park -

4


Mines View Park -

2

Teacher's Camp

- 5


Botanical Garden -

6


The PMA (Philippine Military Academy) Quad

The Strawberry Farm (fields is in La Trinidad already) - 

12

Lourdes Grotto - 

7


Bell Church - 

11


Tam-Awan Village

Wood Carver's Village


Asin Hot Springs

Easter Weaving Room

Maryknoll Ecological Sanctuary

Baguio Museum - 

9


Balatoc & Crosby Park

SM City Fog View Terrace - 

10

Sab-Atan Restaurant

 - 14


Flower Farm in Bahong La Trinidad

Kennon Road Lion Head

Mount Santo Tomas
Please note that we have started our journey by visiting the farthest spot on our list first (except for the Hangar Market) and down to the nearest in town from our transient house where we got accommodation at Php 1,800.00 per day for 3 people. Our original choice was the cheapest we found online at Php 1,000.00 per day but the arrangements did not materialize due to our change of schedule.
The second day was spent trying to buy stuff that we didn't and can't find in the places we visited for pasalubong and out of town travel to La Trinidad Strawberry Farm in Benguet. We weren't able to see the flower farm in Bahong and the vegetable trading post at La Trinidad Public Market due to lack of time but next year will be a different story for sure. Another thing we weren't able to do is to go food tripping in some of the best restaurants in Baguio for which is part of our itinerary.
It turned out that we were only able to visit 12 amazingly astounding tourist places in Baguio as listed above for our 3 days 2 nights stay in the City of Pines. The reason for which is because our 3rd and last day was spent going back to the Strawberry Fields to buy pasalubong of fresh strawberries, jam and a planting material - the mother berry plant to take home to Manila.
As a tip, we did this because if you buy berries during your first day or 2nd day of stay, it's guaranteed 100% that you'll be going home with rotten fruits on your plastic bags. It is best to go back and buy on your last minute. That's what we did because hotels only allow checkout after lunch.

56 Top Baguio Hotels and Transient House Options with Location Address

Arriving in Victory Liner bus terminal did not make us notice that back in the early 90's, the Baguio earthquake had badly stricken the city.

It's because we didn't see a trace which gave me the feeling of visiting the Diplomat Hotel ruins.

Anyway, here's a list for your choices of hotels and cheap transient houses to stay for a room accommodation in the city.
To come up with the cheapest cost with where to stay in Baguio, again, I had to go online and use my skills to search with the help of a Globe, Smart and Sun postpaid cellphone from Tatay Sam. Facebook is a major tool if you know how to use it though. A 20-peso load will go a long long way if you want to make an inquiry.
Although many hotels and transient houses are affordable enough for your pocket, it is a fact that most of the caretakers and owners would give priority to entertain your call if it came via cell phone especially during peak season like December, February (celebration of Panagbenga Festival) and summer months from March to May which happened to be our trip schedule. We have it to our advantage in this case and we hope you learned a tip from this one. Believe me, it's easier this way than sending an email... and fast turnout too with respect to room rates information exchange.

Camp John Hay Manor Hotel - Loakan Road
Hotel Veniz - One Abanao St.
Microtel Inn & Suites Hotel - Upper Session Road
Bloomfield Hotel - #3 Leonard Wood Road
Hotel Elizabeth - #1 J. Felipe Street
Golden Pine Hotel - Corner of Carino and Yandoc
Hotel Supreme - 113 Magsaysay Avenue
Concorde Hotel - Europa Center, Legarda Road
City Travel Hotel - 15 Kisad Road,
Ridgewood Residence - 17 Julian Felipe St.
Inn Rocio - 68 Kisad road
Burnham Hotel - 20 Calderon St.
Benguet Prime Hotel - Corner Session Road and Calderon Street
Venus Parkview Hotel - 19 Kisad Road,
El Cielito Inn Hotel - 50 North Drive
Tam-Awan Village - Pinsao Proper,
Holiday Villa Court - 10 Legarda Road,
Country Club Hotel - Country Club Road, South Drive,
South Drive Manor - 34 Paterno Street, South Drive,
Blue Mountain Hotel - Marcos Highway,
Hotel 45 - 58 Session Road,
Burnham Suites Hotel - 6 Kisad Road,
Prince Plaza Hotel - 17 Legarda Road,
Summer Place Hotel - 288 Marcos Highway,
Vacation Hotel - 45 Leonard Wood Road,
Kisad Hotel - 24 Kisad Road,
City Light Hotel - 245 Upper General Luna Road,
Palace Hotel - 21 Lagarda Road
Belfranlt Hotel - General Luna Road
Hotel Legarda - 12 Legarda Road
Hotel Ambassador - 25 Abanao Street
Hotel Villa Rosal - Massaysay Avenue Cor. General Luna Road
The Baden Powell Inn - 26 Governor Pack Road Cor., Session Road
Mountain Lodge - 27 Leonard Wood Road
EGI Albergo di Ferroca Hotel - 1, Villamor drive, Lualhati
La Brea Inn - 24 Session Road
Safari Lodge - 191 Leonard Wood Road
Hotel Tepeyac - 177 Leonard Wood Road
Forest Inn - 12 Legarden Road
Leisure Lodge - 1 Magsaysay Avenue
AJ's Pension House Inn - 18 Jungle Town Road, Davao del Sur
Paladin Hotel - Abanao Street,
Aussie Hotel & Pub - 92 Corfu Village,
Toms Place - Blk. 27 Lot 6. Bermuda Hills Subd., Naguilian Rd.,
Swagman Aussie Hotel And Pub - 92 Upper General Luna Street, Corfu Village,
Bayanihan Lodge - 51 Otek Street,
Gilberto's Hotel - 86 upper Genaral Luna Road,
Peredo's Loding House - 5 Claro M.Recto Street,
Adivay Inn - 11 Bonifacio Street,
Mido Inn - Malcolm Square,
Zion Hostel - 18 Palma Street,
Villa Al Pino - Europa Condominiun Villas, Minos View Park,
Condotel -19 Harrison Road,
Benguet Pine Tourist Inn - 82 Chanum Cor. Otek Street,
New Plaza Hotel - Address: 2 Assumption Cor. Session Road,
Mount Crest Hotel - Located in Legarda Road,
56 Best Baguio Restaurants to Taste and Enjoy Baguio Food

Most of the small restaurants is where you will also find an inn to stay for the night although most online reviews I have read so far do not recommend staying there especially if you have valuables to keep and leave while you travel around.
On the other hand, if you are a food tripper, your taste buds will surely love the City of Pines as it is filled not just with nightlife but also of cozy and uniquely designed restaurants that serve authentic dishes you can only find and experience in Baguio City. We have a couple on our list and we hope to grow more as we visit the highlands each year during summer.
Forest House
Pizza Volante
Cafe by the Ruins
Eve's Garden
Chocolate de Batirol
Rose Bowl
Star Cafe
Little John's
O'Mai Khan
Brod Pitt
Hill Station
Bliss Cafe
Oh My Gulay
Chaya
Chef's Home
Vizco's Cake Shop
50's Diner
Hamada
Solibao Restaurant
Te Quiero Tapas Bar
Cafe Will
Beggang Resto Grill
Health 100
Caffe Klatsch
Seafood Island Restaurant
Happy Tummy
Pnky
DALS Dream Cafe
Cantinetta

Cha Asian Cuisine
Wood Nymph
Good Taste Restaurant
He Brews Bookstore and Cafe
Gloria Jean's Coffees
Sinamak
The Malt Room
Arca's Yard Cafe
Cuore Buffet
Future Diner
Ketchup Community
Safe Sabel
jay-J's Inasal
Swiss Baker
Central Park Restaurant
Sab-Atan 1 Restaurant
Hai Dan Tea House
Mother's Garden Restaurant
Kubo Grill
Kubong Sawali
Cafe Picarre
Fiorgelato
Hodori Korean & Japanese Restaurant
Mile Hi Diner
Rumah Sate
Fuzion Smoothie Cafe
Everything Nice Cake Shop
Please do also check our Philippines Travel page as well as for your guide, we strongly suggest to go take a look at the different places using our own version of the Philippines maps.