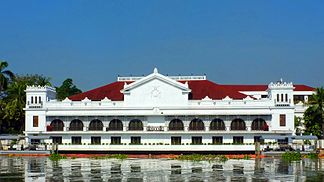 Malacañang Palace Photo Credits to Wikipedia
Above is a photo of where the current Philippine president, Rodrigo Roa Duterte resides. It has been the home to all previous presidents of the country except President Corazon Aquino, the first female president of the republic.

Local Laws and Rules to Watch Out For - Tourist Guide and Things to Prepare

The best place to know more about specific local municipality or city ordinance is the Manila City Hall (Gusaling Panlungsod ng Maynila). The building is easy to recognize with a big clock tower and Tondo as its most densely populated district. The current mayor is Joseph Ejercito Estrada. You can find the building right in the heart of the city near SM Manila Mall or at this address - Corner of Taft Avenue, Padre Burgos Avenue and Villegas Street, Ermita, Manila, Philippines (you can find a map below). Official service time is from 8:00AM - 5:00PM and has an unofficial hotline telephone number of (02) 527 0972 according to Wikipedia. Any latest news can be read here about Metro Manila.
Important Points of Note for Tourists:
best is to get a local FIlipino guide - this will cost you less and help you secure your valuables and self a good place / positioning when traveling.

always keep a map of Manila

watch out for jay walking signs
watch out of illegal parking areas / towing areas if you drive. Best place to park is in any Mall or parking lot which is found almost everywhere.

when riding the MRT / LRT, always see your destination from the map which can be found inside near top of the train doors
major public transportation is thru jeepney, taxi, tricycle, pedicab and Grab or Uber taxi. rent a private car if needed.

take note of all necessary emergency hotline numbers, location and contact person for emergency like your hotel, your guide (if you have one), fire department, police (in your area), hospitals, drug stores, market, traffic bureau, MMDA, Meralco (for electricity) and Maynilad for water supply.
always bring your passport, valid IDs and visa (if you have one)
keep an itinerary and list of your places to visit if you are touring around
buy a local internet-ready or wifi-ready SIM card for your mobile phone and take note of wifi hotspots in malls, public places and restaurants.
never throw your litter or smoke anywhere you're not familiar with
Filipinos are polite, courteous, honest, accommodating and easy to go along with so don't hesitate to ask if you are lost or out of your league.
there are currently 5 cruise ships docking in Philippine port - Celebrity Millennium (travels to Kaoshiung / Manila / Vietnam), Celebrity Constellation (Hongkong / Manila / Boracay), Europa 2 (Sandakan / Bohol / Boracay / Malcapuya / Manila / Hongkong), Seabourn Sojourn (Xiamen / Hundred Islands Pangasinan / Manila / Boracay / Coron Palawan / Puerto Princesa / Kota Kinabalu) and Crystal Symphony (Komoda Islands / Boracay / Romblon / Kota Kinabalu).

City Hall Map and Photo by the Harbor View


(full photo credits to - Wikipedia)

Awit ng Maynila (Hymn)

Tanging Lungsod naming mahal
Tampok ng Silanganan
Patungo sa kaunlaran At kaligayahan
Nasa kanya ang pangarap, Dunong, lakas, pag-unlad
Ang Maynila'y tanging Perlas Ng Bayan ngayo't bukas
MAYNILA, O, MAYNILA Dalhin mo ang Bandila
MAYNILA, O, MAYNILA
At itanghal itong Bansa.
Top Tourist Visitors in Manila

The tourist spot visits and market has dramatically increased in the past years. From 2016-2017, below is the list of top visitors by nationality this year 2017.
Korea reached 150,685 while United States of America ranked second with 80,463 visitor arrivals, up by 12.87% from its arrivals in February 2016 of 71,290. China followed closely with 78,251 arrivals. Japan at 4th spot provided 53,957 visitors to the country with 6.13% increase while Taiwan finished 5th by supplying 20,472 visitors with a 3.28% increment versus its previous year's arrival of 19,821 visitors.
The Australian market contributed 20,157 arrivals (+9.32%). Posting double-digit growth are Canada with 19,016 arrivals (+21.39%) and United Kingdom with 15,226 arrivals and (+15.65). Completing the top 10 markets are Singapore with 13,309 arrivals and Malaysia with 11,335 arrivals. Germany and France took the 11th and 12th spot respectively
source: http://web.tourism.gov.ph/news_features/tourist_arrivals.aspx
Parks in the City and Location Where to Find Them

Ayala Triangle Gardens - Bel-Air, Makati
Makati Park and Garden _ West Rembo, makati
Malacang Park - Pandacan
Marikina River Park - Marikina
Mehan Garden - Ermita
Paco Park - Paco
Pinaglabanan Park - San Juan
Quezon Memorial Circle - Diliman, Quezon City
Rizal Park (Luneta) - Ermita
Arroceros Forest Park - Ermita
Balara Filters Park - Diliman, Quezon City
Freedom Island - Paranaque
Manila Zoological and Botanical Garden - Malate
Ninoy Aquino Parks and Wildlife Center (formerly Wildlife) - Diliman, Quezon City
Pasig Rainforest Park - Maybunga, Pasig
University of the Philippines Arboretum - Diliman, Q.C.
La Mesa Watershed Reservation (La Mesa Eco Park) - West Fairview
Fort Santiago Park - Intramuros
Liwasang Bonifacio - Ermita, Lawton
Plaza Dilao - Paco
Plaza Miranda - Quiapo
Manila Memorial Park - Paranaque


Plaza Moraga - Binondo,

Divisoria

Name
Area
Population
(2015)
Density
Barangays
km2
sq mi
/km2
/sq mi
Binondo
0.6611
0.2553
18,040
27,000
70,000
10
Ermita
1.5891
0.6136
10,523
6,600
17,000
13
Intramuros
0.6726
0.2597
5,935
8,800
23,000
5
Malate
2.5958
1.0022
86,196
33,000
85,000
57
Paco
2.7869
1.0760
82,466
30,000
78,000
43
Pandacan
1.66
0.64
87,405
53,000
140,000
38
Port Area
3.1528
1.2173
66,742
21,000
54,000
5
Quiapo
0.8469
0.3270
28,478
34,000
88,000
16
Sampaloc
5.1371
1.9834
265,046
52,000
130,000
192
San Andrés
1.6802
0.6487
128,499
76,000
200,000
65
San Miguel
0.9137
0.3528
17,464
19,000
49,000
12
San Nicolas
1.6385
0.6326
43,069
26,000
67,000
15
Santa Ana
1.6942
0.6541
66,656
39,000
100,000
34
Santa Cruz
3.0901
1.1931
118,903
38,000
98,000
82
Santa Mesa
2.6101
1.0078
110,073
42,000
110,000
51
Tondo
8.6513
3.3403
631,363
73,000
190,000
258
(Table Source: wikipedia)

Top 45 Tourist Spots to Visit

Depending in ones taste for fun and adventure travel, anybody can come up with so many options. Just like any other country, there are 2 types of Manila tourist spots you can visit - free and paid. Most of the best places are actually free while some may have entrance fees, environmental fees or attraction rates. If you have a guide, it is pretty easy to minimize the cost and enjoy the same level as when you spend so much money for cozy places to have fun adventure. The key here is to get yourself a very good guide. The money you save out of visiting places of interest that might be free can go to pay for the guide. Go get a local accredited guide for best results. In the meantime, below are some of the best places both free and paid to visit when you tour around Manila.
Bahay Nakpil in Quiapo
Rizal Park and Monument
Fort Santiago and the Walled City in Intramuros
Manila Bay or Baywalk
Ocean Park

Resorts World, City of Dreams and Solaire Resort and Casino

National Museum
The Old Congress Building
Chines Garden\
Halamanang Pilipino
Japanese Garden
Orchidarium
Cultural Center of the Philippines (CCP)
Folk Arts Theater
BGC Taguig
Venice Mall in Mc Kinley Taguig
Mall of Asia
Malacanang Palce
Makati Business District
Manila Cathedral, San Agustin Church, Quiapo Church Black Nazarene and Baclaran Church

Paco Park

Dance and Dine with Local Filipino Dishes at Zamboanga Restaurant
Divisoria Market
University of Santo Tomas
Chinatown in Ongpin Street
Chinese Cemetery, La Loma Cemetery and North Cemetery

Binondo and Sta Cruz Church
Bahay Tsinoy
World Trade Center
The Money Museum
Museo Pambata
PICC and Star City Amusement Park

Tutuban Center Mall and168 Mall
Visit and climb stairs of the Manila City Hall, SM and Palacio del Gobernador
Yexel's Toy Museum
Manila Central Post Office and Liwasang Bonifacio
Dapitan and Suki Market
Intramuros, Wack-wack and Mc Kinley Golf Course
The MRT, LRT and PNR  Rail Transport System
Manila Zoo and Malate Church
Pasig River + Marikina Riverbank Park and Planetarium
Eat Buffet at Vikings or Tramway or Yakimix Restaurant
National Library in Luneta Park
Visit the Mind Museum in BGC, Ayala Museum, Ateneo Art Gallery, Armed Forces Museum, Shoe Museum in Marikina, Archdiocesan Museum, Casa Manila, The Galeon and Bantayog ng Mga Bayani
See Mary Giant Statue at the EDSA Shrine with Guadalupe Church