Divisoria Market in Manila - Tutuban, 168, 999 Mall and Midnight Palengke
Divisoria, window of Manila's oldest history from the Tutuban PNR railway station and terminal to today's cheapest market venue bargain price shops in which can be found in 168, 999, Tutuban Center, Divisoria Mall and the midnight palengke along Recto and Ilaya or "looban". (inner portion).
| | |
| --- | --- |
| It is where you can buy low-cost vegetables, fruits, fish and all sorts of wet and dry goods which came directly from wholesalers in the highlands and veggie producing lands in Luzon. (see our photo of what you can buy from the market below). Comparable to maddening crowd of Quiapo during Wednesdays and Fridays, the night market in Recto is popular destination during Christmas season. | |
It is also where you can find some of the poorest vendors today selling damaged goods and vegetables we call in Manila as "segunda" according to some articles I have read online. Today, different sorts of ukay ukay is also being sold on the streets of Recto.
It has also become through time, the best venue where you can buy low-priced goods from toys, gift items, raw materials for different projects and assembly spare parts, novelties, clothes, accessories, decorations, pirated music DVDs and movie videos, fabric, textile, household / office and school supplies, arts and crafts as well as decoration accessories of all sorts. This market has also become the venue for selling all sorts of China made tools which are very cheap in price but mostly of the lowest quality.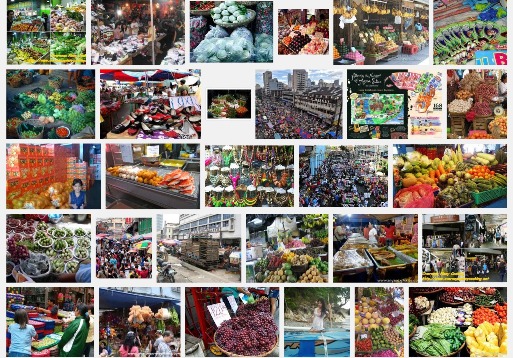 It has become the center for barter and trade of different combinations of marketers from all over surrounding provinces, far or near Manila. It is the equivalent of "merkato" in Italy which are literally street shops known to Filipinos as "tiangge".

Comparable to Suki Market in Dapitan, during the ber months, this most popular bazaar Market in Manila turns out to be clogged with traffic due to Christmas rush and goods which can be found just about the whole span of Recto Avenue. Rented stalls during the peak season of Christmas months cover the whole avenida as the midnight market happens. It is where you can buy different goods, rtw dresses being combined with wet and dry goods that a market offers in Ilaya area where you can buy fresh produce coming from as far South in Laguna and North in Baguio or Benguet area.

Short History of Divisoria According to Tell Tales

| | |
| --- | --- |
| | With access to nearby sea ports in the Binondo Area and Intramuros, the market started out as a community where originally, the Spanish Intramuros-ousted small Chinese communities dwell, started to occupy small areas from Binondo to Recto in the 1900's. This is how it goes... |
These originally merchant by nature "Intsik" later on became Chinoys who used to set up small thrift stall business and bargain stores along the streets of Juan Luna routed going to Recto Avenue (now the modern Divisoria).
This is what the Chinese is known for - selling cheap priced goods of all sorts for as long as they can earn from it. In fact, Binondo has witnessed different old Chinese restaurants that have become the success stories of different Chinoys today living in Manila.
Gradually and little by little, these merchant stores, grew occupying up to the reach in what we know today as Recto, the end part for which is called Ilaya. Nearby, the Philippine National Railway (PNR), located in Tutuban where the end terminal station is still found and used today. Knowing that fast transportation is essential to merchant trading as a major factor for growth and income from trading and selling, Divisoria later on grew into the haven for goods communication and "bagsakan" or wholesale and bargain center. Merchants flocked little by little from different parts of the country through the train and nearby ports of Binondo Jones Bridge area and Intramuros.

Divisoria Malls and Ylaya - Home of the Cheapest Wholesale Vegetables, RTW and Wet and Dry Goods in Manila

| | |
| --- | --- |
| Different small and big malls may now be found in Divisoria and the long list today, 2014 - 2015 span from - Meisic Mall, 168 Mall, Lucky Chinatown (newest), Divisoria Mall, Tutuban Center Mall, 999 Mall, Puregold Grocery Mall and more. | |
These malls offer the cheapest you can think of on assorted rtw (ready-to-wear) goods and dresses which became popular in the early 80's in replacement to custom tailored outfits.
Virtually the heart of Manila, this market has turned into a multi-billion yearly profit combined from different merchants and small sidewalk vendors especially during Christmas season. It has become a venue meetup for wholesalers, retailers, traders and all sorts of marketers who have either made it big in the Philippine business arena or flopped to become bankrupt in their business.
Fresh Cheap Vegetables from Baguio

The freshest vegetables can be bought in the market too both during day and night but it is most advisable to buy during night where the cheapest price is offered by wholesalers and traders from different parts of the Philippine provinces. Usually, these fresh vegetables come from Bontoc, Benguet or better yet known and called by Manilenyos as Baguio. Although not of same place, Manila residents usually refer to crops from the North as coming from Baguio.
Wet Goods - Fish and Sea Foods
A wide variety of fish and sea foods are also sold during night market daily in Divisoria. The "palengke" usually starts 6:00 PM to 6:00 AM. for the wise buyers who are looking for cheaper options, the 6:00 AM onwards market is highly suggested but if you want to get the best and freshest possible, it is best to go for the early sale from 7:00 PM to midnight. Transportation is also favorable during the night market as traffic is out of sight.
How to Get to Divisoria

If you want to know how to get to Divisoria, you may consult with Google Maps or Bing Maps for easy route choices by commute and if you have your own car but it is always best to park in a bit far mall like Lucky Chinatown and pick up your loot buys later. Sidewalk parking is not a good choice if you are aware of scumbags around who might do no good with your vehicle. Just be careful of pickpockets as they are just around the corner waiting for their next victim especially during "ber months" or holiday season as Christmas nears as well as during Halloween or November.

Hotels in Divisoria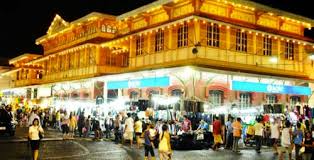 If you think you can only find hotels in Manila streets or the nicest places to stay in Boracay but not in the muddy market in the heart of the metro, you can be wrong. I was actually surprised to find out late last week (October 7, 2014) that there is indeed a very nice hotel in this part of the busy streets of bargain sellers and "subastahan" for the cheapest textiles, vegetable, seafoods and other wet and dry goods you can find in the Philippines.
The idea could be somewhat odd but for the business owner of Orion Hotel in Divisoria, this could be a profitable venture investment. We're not really so sure about that at this point or where the market study led the investors to the hotel to put it up in there where decent loyalist visitors of hotels could have second thoughts in wanting to go park in probably one of the busiest streets in the Philippines to date.
I was also surprised to see that this hotel have the cheapest offer in Manila so far at only Php 1,175 per room. You can visit their website and see this promo which runs up to 2016. This is actually a very cheap and nice offer for tourists who are looking tour, visit and to see the busiest market in Manila - Divisoria.