Philippines Tourist Spots - Top Places to Visit on a Travel

If you want to travel Philippines, our family had a list of the different tourist spots, resorts and beaches to visit and enjoy so you can happily say that indeed, "it's more fun in the Philippines". We've got top places and tourist destinations that will surely make you wow on your trip and journey in knowing more about Philippines.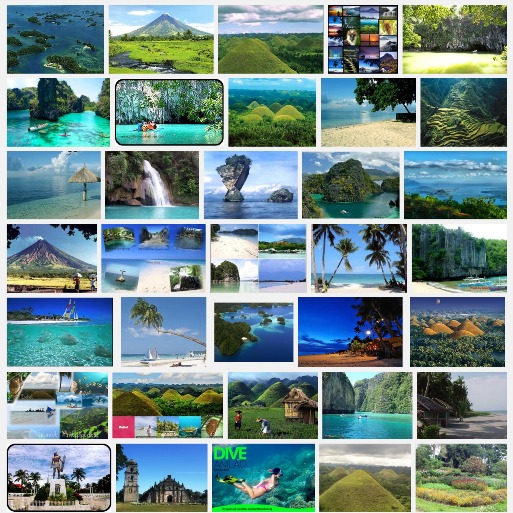 Of course, Manila is a top destination for foreigners who are looking to have fun in the comfort of their usual lifestyle from whatever country they may come from. The reason is because in Metro Manila is where you can find all the luxuries of hotels and night out places, malls, restaurants and tour destinations in the city life-type of phase as well as many century-old churches like Quiapo, Binondo near Divisoria, Antipolo, Bulacan, Cavite and more who happened to be a living testament to Filipinos' strong religious belief as people of the world.
On the other hand, if you are the bit of an extreme type of adventurer wandering in the Philippines and looking to find your foot bound by a destination that's out of your comfort zone, perhaps you'd like to try out weird and sometimes, out-of-this-world tourist spots. Those that very few would dare go to. Or you can just go beyond a place somewhere in the middle of both worlds where you can find both the comfort zone you got used to and the extreme adventure of your life in resorts and top destination islands in the Philippines where you can find a comfortable place to play hide and seek with nature.
MABUHAY & WELCOME TO 7,100 ISLANDS CALLED PHILIPPINES

Island Tourist Spots to Explore in the Philippines

Below is our list of the top islands to visit for the adventurer in you. You might want to start here. Or by clicking on each of the islands will reveal right before your very eye, a list of best tourist spots and places to visit in that particular island.
| | | |
| --- | --- | --- |
| Bohol | | |
| Cagayan | Camiguin | Cebu |
| Davao City | Ilocos Norte | |
| Negros Oriental | Puerto Princesa | Palawan |
| Zambales | Aklan | Siquijor |
| Panay | Leyte | Samar |
| Laguna | Pangasinan | Ilocos |
| Zamboanga | Cotabato | Surigao |
| Iloilo | | Camarines Sur |
| Butuan | Tagaytay | Central Luzon |
| Calabarzon | Antipolo | Guimaras |
| Batanes | Batangas | Quezon Province |
| Bulacan | Biliran | Cavite |
| Mindoro | Bacolod | Angeles City |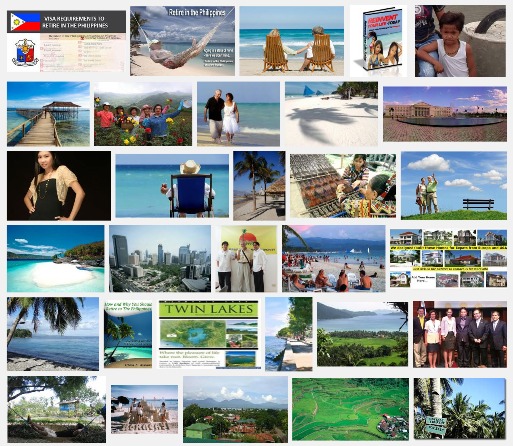 Opportunities for Retiring in the Philippines
Inside the links above is where you can expect to see yet another list of specific interests including opportunities for retiring in the Philippines and spending your hard-earned money when you were still working on the cheapest daily expenses rate possible.
A measly peso that you can't even imagine how affordable they can be in the Filipino land. Enough to make you live in the comfort of both worlds.
Options Where to Retire
Tagaytay - Literally high altitude in location, this place is cold even in summer. One of the reasons why Pinoys love to stroll, mingle and taste cold weather from February to May just to eat in cozy restaurants and enjoy resorts and swimming.

Manila - It where everything in a maddening crowd and busy streets are. Equipped with all the amenities you would want to live if you are used to it and can't risk not having fun while retiring, this place is definitely for your type.

Baguio - Even colder in the highest altitude (probably) in the Philippines tourist spots in the far North, this is an escape route during summer being the capital place. If you live in cold places, this is the most idea place to stay and live, get married and retire with a Filipina or Filipino partner.

Boracay - Here is where all year long, summer is. If you love the sun, nigh clubs and night life and beaches, Bora is absolutely for you. You can find a quite secluded quiet place here and still get to enjoy both summer fun and life while retiring in the Philippines, particularly in Visayas.

Bohol - Where people are hospitable and courteous and respectful of serenity, this chocolate hills filled bounty land can be a great choice of a place to stay.

Cebu - With conservative native ladies of Cebu, the beach resorts are bountiful and the modern life amenities are abundant in this part of the Visayas. Here is where you can meet and match with an ideal Filipina in the suburbs or if you love to live your life in the night, nightlife is absolutely wonderful if you retire in Cebu. They have countless beautiful tourist spots in this island paradise.