Latest Calaguas Island Tour Package - Dept of Tourism Accredited Guide Offers
It's summer! Forget Boracay Island white sand beach. Try the best Calaguas Island tour package by Byahe AdvenTours and you'll surely find out what prestine white sand beach bumming in this island is all about.
It's absolutely more clean and quiet than what Malay, Aklan's summer-crowded Boracay island. Way more serene and untouched than what Cebu, Bohol, Palawan and Kalanggaman Island in Leyte beach vacation travel can compare with. Mahabang Buhangin white sand beach in Camarines Norte is definitely worth the try as the place, the people and our guide's and staff's hospitality brings your presence to an endless bliss you can ever be this summer.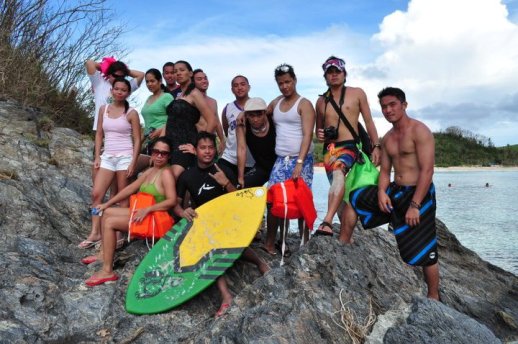 Calaguas Beach Bumming Photo by Mariano Erwin Balane
Shy away from false claims of  best tour package offers by comparing price and equating it with 100% absolute fun activities while you stay in the island. These packages are done by people who used to steal our original photos taken by none other than your Department of Tourism accredited guide and wedding photographer - Mariano Erwin "Nano" Balane.
Don't get fooled by the promise of good food and deceivingly low price Calaguas Island tour packages by not including the Bus transfer cost. Go for worry-free choices and more never before seen and experienced beach bumming in your life. See our simple list of one and only original offered fun - the same fun since no cottage Calaguas Island existed on the internet way back even 6 or 7 years ago.

We help you stay away from promos by unaccredited island travel guides that can possibly put your safety into jeopardy. Let Byahe AdvenTours, the original and pioneer record holder of jump shots in Calaguas Island bring back summer into your family, barkada, friends and office mates thru an astoundingly unbeatable list of unique and never before experienced fun in the beach. Find out why people keep coming back to Byahe Adventours unbeatable whole year thru all-in worry-free low price promo offer that puts your name on the list of the official caretakers of Philippine seas, the Philippine Coastguard.

And if security is not an issue, then should you pay for any less than wholesome unique fun experience with other previous DIY visitors turned fly by night tourist guides? Where else can you find it but with Byahe AdvenTours' fun-filled experience tour. See below the inclusions and pricing of our affordable and enbeatable tour offers.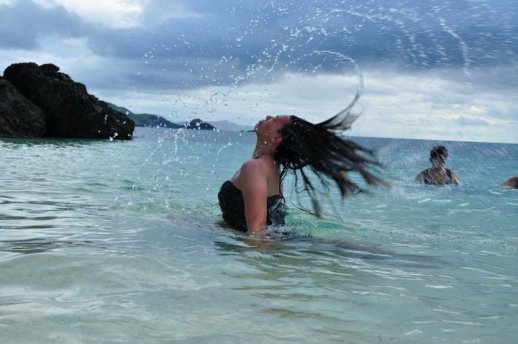 Micmic Callo Photo in Calaguas by Mariano Erwin Balane
Byahe AdvenTours All-In Worry-Free Calaguas Island Tour Packages - Whole Year Round Travel Schedule 2016 Fun Promo

You may download the full package inclusion details here.

Calaguas Island Tour Booking & Reservation : 0915-7792222 / 0917-9292943 / (054) 721-1656

CALAGUAS ISLAND 2016 TRAVEL DATES SCHEDULES (January to June)
For Calaguas Island Unique Experience...
Join Byahe AdvenTours

JANUARY

FEBRUARY

February 6 - 7 (2D/1N)
February 7 – 8 (2D/1N)
February 6 - 8 (3D/2N)
February 13 - 14 (2D/1N) HEARTS DAY
February 20 - 21 (2D/1N)
February 27 - 28 (2D/1N)
MARCH (***book early for Holy Week Sched)

March 5 - 6 (2D/1N)
March 12 - 13 (2D/1N)
March 19 - 20 (2D/1N)
March 24 - 27 (4D/3N) ***
March 24 - 25 (2D/1N)***
March 25 - 27 (3D/2N)***
March 25 - 26 (2D/1N)***
March 26 - 27 (2D/1N)***
APRIL

April 2 - 3 (2D/1N)
April 9 - 10 (2D/1N)
April 9 - 10 (2D/1N) ARAW NG KAGITINGAN
April 16 - 17 (2D/1N)
April 16 - 17 (2D/1N)
April 22 - 24 (3D/2N)
April 23 - 24 (2D/1N)
April 29 - May 1 (3D/2N)
April 30 - May 1 (2D/1N) LABOR DAY
MAY

May 7 - 8 (2D/1N)
May 14 - 15 (2D/1N)
May 21 - 22 (2D/1N)
May 28 - 29 (2D/1N)
JUNE

June 4 - 5 (2D/1N)
June 11 - 12 (2D/1N) INDEPENDENCE DAY
June 18 - 19 (2D/1N)
June 25 - 26 (2D/1N)
PACKAGE INCLUSIONS

A/C Transportation Booking Assistance (Bus or Van) - Manila - Daet- Manila (for Package B & D)
Boat Transfer Vinzons Port – Calaguas Island and vice versa
Jeepney Transfer (Daet – Port – Daet)
3 complete meals (by Resident Chef) Day 1 - Lunch, Dinner / Day 2 – Breakfast (for Package A&B)
6 complete meals (by the Resident Chef) Day 1 - Lunch, Dinner / Day 2 – Breakfast, Lunch, Dinner / Day 3 –Breakfast (for Package C&D)
Note: (Meals are prepared on the spot) Buffet Style
"Gourmet Meals" (highest quality, perfectly prepared, and artfully presented)
Island Fee (Environmental Fee and Barangay Fee)
Port Fee
Tent Accommodation (Coleman and Columbia Tents)
Local Guide
Use of Cottages (sharing)
Use of Skim Boards
Beach Volleyball
Wine Mix at Night
Bagasbas Beach Side Trip(Surfing – optional and on pax account)
Henna Tattoo
Service of Travel Professional Photographer
Travel Insurance
With FREE Lesson / Session: (Learn D' Basics)

Skim Boarding 101
Poi Spinning 101(basic of fire dancing)
Culinary 101
Wine Mixing and Unlimited Drinks thereafer

Calaguas Island Tour Beach Bumming Photos

Beach bumming? who said so? Below are just some of the pictures to give you an idea what it's like 6 years ago in Calaguas Island. Buffet meals, original jump shots taken 6 years back. Photo shoots here and there. Beach by the shore camping because there is no hotel anywhere. It really is different today but with the same fun people to be with thru Byahe AdvenTours Calaguas Island tour travel packages.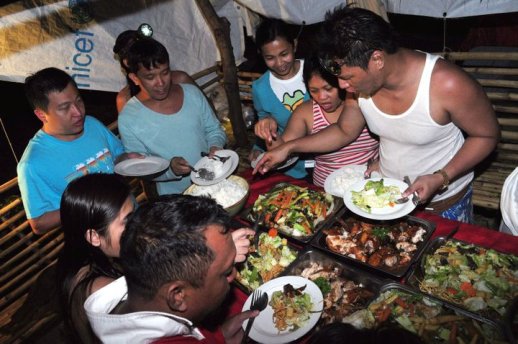 Byahe AdvenTours Calaguas Buffet Meal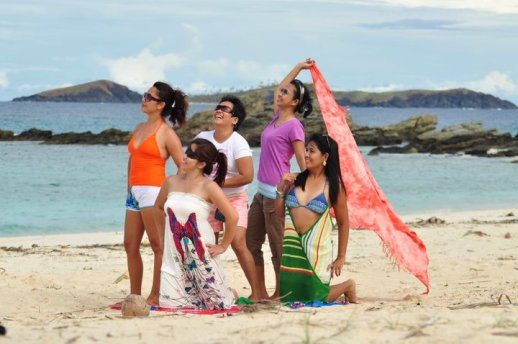 Calaguas Island Girls on Photo Shoot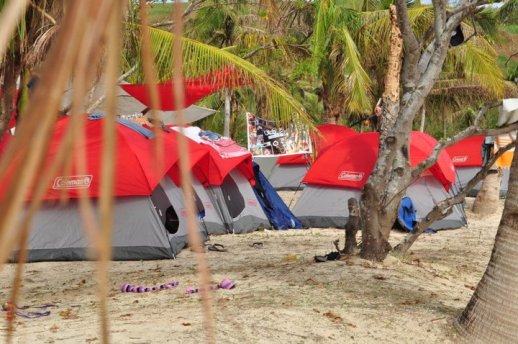 Tent Camping In Calaguas 6 Years Ago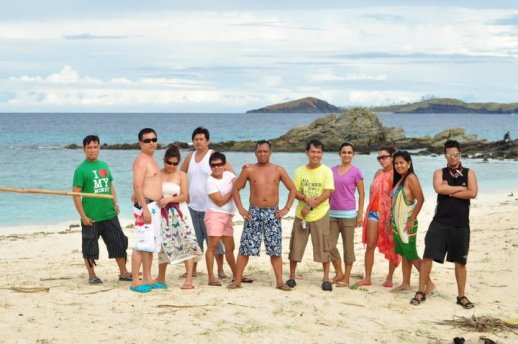 Byahe Adventours Tourists in Calaguas