Boracay Resorts - Guide to Cheapest Hotel Packages, Island Tour, Map, Weather, Restaurants and Accommodation to Station 1,2 & 3

Boracay resorts beaches are the most visited paradise in this island of white sand beach in the Philippines during summer vacation. You are one lucky tourist if you came here at My Pilipinas.Com. The reason is because our family happens to be genuine full breed Aklanons who know the people, the island, its traditions, culture, language / dialect and yes, Boracay beaches and hotels from a view in Caticlan Airport (Boracay Airport) and Jettyport.
My mom, Ana, is a true-blooded Tangalan, Tamalagon, Aklan born lad while my "tatay" Sam is the third sibling and son of a pure Aklanon by heart & nature by my grand father (lolo) Justin Casuncad who grew up in Poblacion Buruanga, Aklan.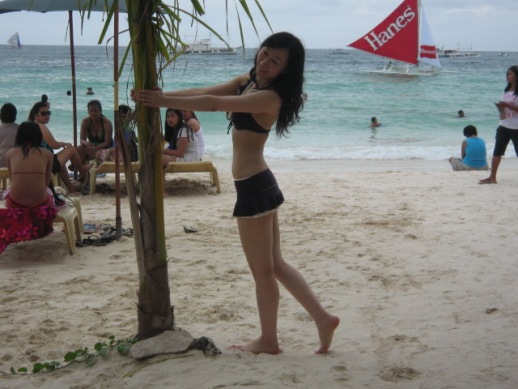 This year, 2013, the current mayor is my uncle Quezon Labindao, the husband of a first cousin of my tatay (Inday Labindao) who is now the wife of incumbent mayor. She is also the previous municipal mayor before her husband.
Tour Packages, Tips and Guide to Boracay Travel

We've literally explored almost all parts of the whole white sand paradise island, Boracay as each year, we get to attend local fiesta in Buruanga. To cut it short, we've got a whole lot of information waiting for the tour package that you want to get accommodation for or your booking for the cheapest hotel option in Station 1, Station 2 or Station 3 areas of Bora.
Air Sea and Land Travel Options to Bora

We've also got your vacation search online with respect to the weather in the island, a map guide of the whole secluded island in Malay, guide to airport and air transportation, travel to RORO by bus and ship or ToGo by sea, flight schedules from Manila to Caticlan or Kalibo with Cebu Pacific / Air Philippines / Zest Air, nightlife bars and restaurants, seafood and dining options, coffee by the sea shore, starbucks, souvenir shopping, island hopping, outdoor activities, tour packages, sample itinerary.
For the Budget Conscious Traveler

You might also find it handy to know about budget quotation and cost of a vacation, top things to do while in Boracay, resort rates, fees and packages during peak season and off season months and more. We will surely get you covered plus nice tips on where you can taste good food and dine in cheap cost while enjoying polite, honest and good service as well as where you can buy Boracay t-shirt and other souvenir items in D Mall.
Alternative to Boracay Resorts - Tuburan Baybay White Sand Beach

If you are truly lucky and you took extra time to read everything we've got, you might just find a good alternative to Boracay resorts beaches in our hometown in Buruanga where you can find endless shorelines of dive resorts including Ariel's Point (formerly called Batason Point) which is really just a 15-30-minute boat ride from Buruanga or go to Tuburan Baybay a few kilometers long white beach resort, secluded from the crowded Boracay resorts during summer located in Alegria, Buruanga - a truly quiet and serene choice other than Bora.
Boracay Dive Spots Alternative

Nasog 1
Nasog 2
Lapu Wall
Dog Reef
Kalamanjan
Batason (Ariel's Point)

Errol Reef
House Reef North
House Reef South
Norway Reef
Black Rock
Black Rock 2

3 Boracay Beach Resorts Choices by Location (Station)

Station 2 Resorts

Station 3 Resorts
4 Boracay Beach Resorts Options by Budget Rates

Cheapest Resort Accommodation
Budget Resort Accommodation
Economy Resort Accommodation
Luxury Resort Accommodation

Offpeak and Peak Season Boracay Resorts Choices

Apart from the fact that most Boracay resorts offer rates in two different seasons of accommodation, many have chosen to remain and maintain low profile for their cheap resorts while service remains good. The 2 seasons will give you a resort accommodation rate for your stay per day or week, differently. Offpeak or low season is much cheaper while if you go with the bulk of visitors during summer or peak season, the rates are usually higher than during low visiting months. If you ask me when is the peak season, I'd say the months of December, February-May and the rest falls in the low visiting season months.

ALTA VISTA BORACAY




ARWANA BORACAY

ARGONAUTA BORACAY

ARTISTA BORACAY




ASYA BORACAY




BALAI CAPIZ HOTEL

BORA SKY HOTEL

BORACAY GEMS VILLAS

BORACAY GOLD CROWNE




BORACAY HAVEN RESORT

BORACAY MANDARIN ISLAND HOTEL




BORACAY PARADISE HOTEL

BORACAY PENINSULA RESORT




BORACAY REGENCY




CLUB PANOLY BORACAY




CLUB TEN BORACAY

COCOMANGAS BORACAY

CRYSTAL SAND BORACAY




DE PARIS RESORT




ECO VILLAGE BORACAY



ERUS SUITES HOTEL


FAIRWAYS BLUEWATER

FRENDZ RESORT BORACAY

FRIDAYS BORACAY




GOLDEN PHOENIX HOTEL




GRAN PRIX BORACAY HIDEAWAY

GRAND VISTA BORACAY




LA CARMELA DE BORACAY




LA BELLA CASA DE BORACAY




LA PLAGE DE BORACAY

LE SOLEIL BORACAY




LINGGANAY BORACAY HOTEL RESORT

MANDALA SPA BORACAY

MICROTEL BORACAY




MONACO SUITES de BORACAY

MORNING STAR BORACAY




MR HOLIDAYS RESORT

NAMI BORACAY




ONE AZUL BORACAY

PATIO PACIFIC BORACAY

PUNTA ROSA BORACAY
RED COCONUT BORACAY

ROXON APARTMENTS BORACAY

THE SITIO BORACAY
AMBASSADOR IN PARADISE
ASTORIA BORACAY
DISCOVERY SHORES BORACAY

NANDANA BORACAY
SANDS BORACAY HOTEL

SEAWIND BORACAY
SERAPH BORACAY

SHERIDAN VILLAS BORACAY
SUMMER PLACE BORACAY

TWO SEASONS BORACAY
BORACAY TERRACES
HANNAH HOTEL
HOTEL SOFIA BORACAY

ESTACIO UNO

JONY'S BEACH RESORT
RESIDENCIA BORACAY
ROYAL PARK BORACAY
SHARI-LA BORACAY RESORT & SPA

SHORE TIME HOTEL

SPIRALS BORACAY

TRUE HOME HOTEL

WHITE HOUSE BORACAY

WILLY'S BEACH RESORT
BANS BEACH RESORT

BLUE WAVES BORACAY
BLUE BIRD VILLA
BLUE LILLY VILLA
BLUE MANGO BORACAY

VIRGINIA VILLAS BORACAY

MITO'S PLACE

NIGI NIGI TOO

THE BORACAY BEACH RESORT
VELIZ INN BORACAY

Map of the Complete list of White Beach Resorts in Boracay Island

As part of our call to give you relevant information about the different resorts found in the white sand beach of Boracay, here is a map of the island where you can find the top spot beaches to seek reservation and accommodation with. Although chances, are you won't be needing a guide, it is still highly suggested to get one so you have a local dialect-speaking tour guide to give you all the advantages. Just be sure to hire the right one. Your guide can also serve as your official photographer so nobody gets left out taking pictures while others are enjoying the poses for Facebook, Twitter and Instagram social network posting.