Baguio Cathedral - Our Lady of Atonement Church Information
If you are familiar with Session Road, Baguio Cathedral, otherwise known as Our Lady of Atonement church is actually just adjacent to it. It is one of the most visited landmarks in Baguio City for both tourists and Pinoys.
It is noticeable with its peak roof spires which resembles that of a small twin tower version of Malaysia's Petronas Tower with super steep pointed tip on both ends. Actually completed in 1936, the ground breaking happened 15 years earlier which is back in 1920. It survived the wrath of the 2nd world war by miracle while being set as refuge to Filipino evacuees as well as today's countless celebrations of the Panagbenga Festival (flower festival of Baguio) in the month of February.
| | |
| --- | --- |
| | A must-pass by during summer tours, this uniquely atop central park situated church is definitely worth the visit for catholic believers. You can buy different souvenirs from vendors around and me and my wife, Ana had our first taste of strawberry taho (soy) there when we went for a 5 day tour to Baguio and Sagada. |
Being a center for Roman Catholic pilgrimage during lenten season in the Philippines, this cathedral is found in the cathedral loop adjacent to the night life spot in Session Road. There is a more complete wiki description and portrait from Wikipedia which you can read in the link provided above.

The Bamboo Organ and Stained Glass Reflection in Balcony of Church Choir Members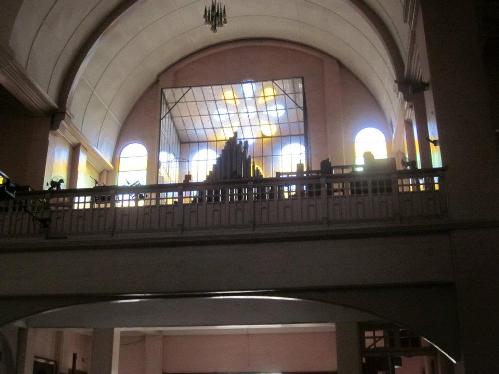 Baguio Cathedral Souvenirs and Picture Taking

First off I would like to ask for forgiveness to God and Jesus Christ as well as the parish admin for sneaking in a few shots of the inside beauty of Baguio Cathedral. I just can't help but adore the sacredness of all feelings from seeing the roman-influenced structure, the twin spires outside, the stained glass reflection from the sun, the 100-step stairs and especially, the bamboo organ upstairs in the singing balcony for church choirs for which I thought for so long that only Las Pinas City had. I was wrong and this picture was a testament.

I didn't really mean to intrude and I must say it was really beautiful in my eyes. The Virgin Mary for which we attest the "Our Lady of Atonement" parish name is really really magical as you stare at it a bit longer. Feels as if miracles are on the way and can't help afterwards but pray in silence for all good things to come around in our couple tour.
Baguio Cathedral Spires and Pay Parking for Tourists and Visitors

If you are with somebody who can't climb up the stairs and take the 100-steps or somebody old to climb up but want to experience praying inside the church, there is a pay parking area there which me and my wife saw. The rates say it in the picture at Php 30.00 and Php 10.00 per exceeding hour. It's like parking inside SM Mall but is definitely worth it when you get to witness the holy cathedral with someone you love in a few minutes of prayer to Jesus and God.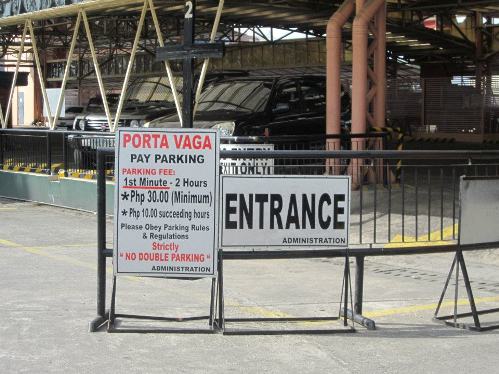 See our couple picture outside of Baguio Cathedral where we bought and had our first taste of the Baguio strawberry taho.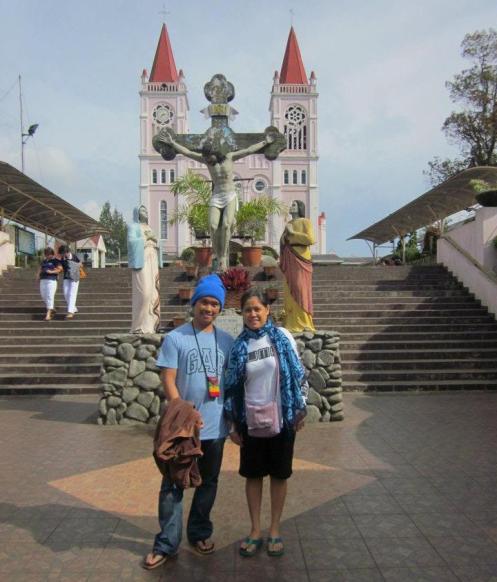 100-Steps Staircase of Our Lady of Atonement

The 100-step stone staircase going up to where the church is actually leads to where you can find the Calgary. It is really very tiring and it feels like agony for the pumping heart after the climb but you'll realize how much its worth it afterwards.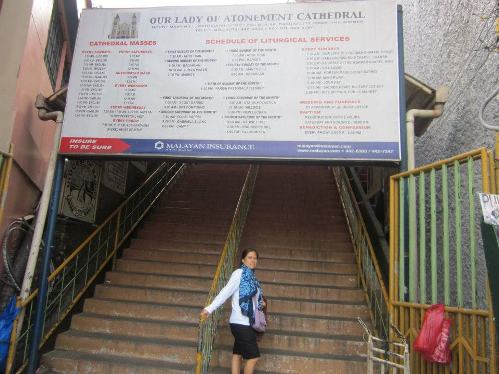 Our Lady of Atonement Church Map and How to Get There

We've embedded a map tour guide for tourists who want's to come over to Baguio and visit first the cathedral from Naguillan Road where most tourists route start down to Burnham Park lake straight to Our Lady of Atonement church. See details in blue markings for commute and if you have your own car so you know how to get there.