Apribada Festival Donsol - Schedule, Highlights, Butanding Fiesta in Sorsogon
The feast of the Apribada festival is a week long fiesta celebration in Bicol Region, South of Luzon, intended to commemorate the prosperity that the town had in the previous year and in recognition of the whale shark known as the Butanding for the bountiful harvest and prosperity that it helps bring to Donsol.
Schedule of the Fiesta

The schedule of the celebration is in the 4th week of January and just like any other fiesta events in the Philippines, the butanding festival aims to develop century long tradition in the minds of the young people of Donsol, Sorsogon. Something to tell as a story to be passed to generations to come as part of the people's culture in the municipality.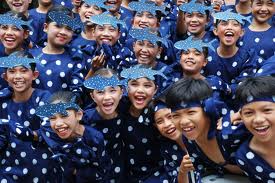 Highlights of Butanding Festival
Donsol is known for the Butanding (whale shark) and has been featured in numerous tv shows and news each year as well as from the official website for tourism in the Philippines. It has become popular with the dive spots where you can get to interact and view in close proximity, the whale shark known by the locals as the Butanding.
Characterized by the building of a makeshift Butanding, Apribada Festival is in celebration of the rare marine mammal, whale shark. You can watch a video of the actual process of making a replica of the Butanding below taken from YouTube.Com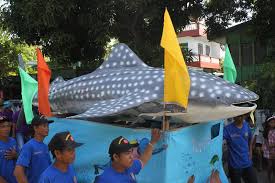 See photos above as it tells the story of the celebration of the feast of the Apribada Festival as dancers wear suits imitating the likeness of the whale shark and locals walk into a parade with different sizes of makeshift of the Butanding in the town plaza. Contests and municipality localities parade with different versions of the iconic whale shark, one of the endangered species in the world of marine mammals today which is in abundance in Donsol.
Locals believe that the Butanding may still be found in the seas of Sorsogon in Donsol because the water there is a favorable habitat for the whales. That despite being endangered due to very limited number in population in the world, the Donsol seas is maintained to be a blessed sanctuary of different other marine population, keeping the place a Philippines travel destination.