How to Cook Free Filipino Food Recipes - List of Cuisines from the Philippines
We have already featured the different Filipino food recipes and have categorized each so it won't be hard for those who want to learn a fusion of the local menu delicacy from the Philippines with foreign cooking or for just love of food. Visit that post with pictures and enjoy.
These free recipes are all authentic cuisine that will help you almost become Pinoy when you really learn how to cook them the native Tagalog way. See our photos of the different local dishes in the daily and occasional Philippine layman's table.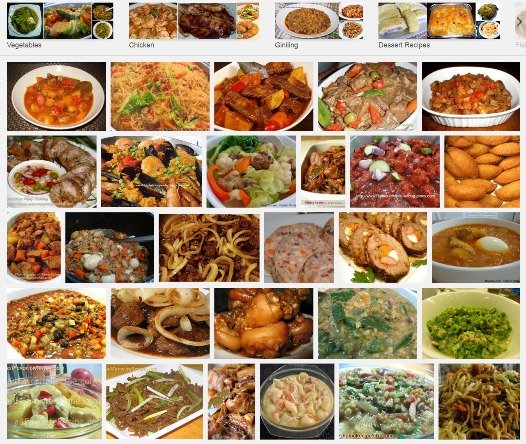 Chicken Recipes

Spaghetti Recipes

Soup Recipes

Baby Food Recipes

Weight Loss Recipes

Indian Recipes

Korean Recipes

Asian Recipes

Spanish Recipes

Fish Recipes

Vegetable Recipes

Cocktail Recipes

Appetizer Recipes

Raw Food Recipes

Dog Food Recipes

Healthy Recipes

American  Recipes

Thai Recipes

Japanese Recipes




Beef Recipes

Pork Recipes

Salad Recipes

Seafood Recipes

Shrimp Recipes

Easy Recipes

Finger Food Recipes

Chinese Recipes

Italian Recipes

Mexican Recipes
List of Most Common Filipino Food Recipes Herbs and Spices

Below is our own list of the latest and most complete home grown fresh herbs and spices that you can find in local produce and gardens and can be bought in nurseries around Metro Manila and surrounding provinces like Laguna, Baguio, Davao, Cebu and the rest of the Luzon plains.
This list of tiny ingredients that liven up our native Filipino food recipes in the local cuisine list will be updated from time to time to cope up with demand by both food blogs, bloggers and enthusiasts to find a resource of the most complete list as in all the herbs and spices that can be found locally grown in Philippine land.

Spices and Condiments


Ginger Root
Onion Bulb
Chili
Atsuete
Turmeric Bulb
Kalamansi (alternative to lime)
Lemon


Philippine Local Herbs


Rosemary
Tarragon
Oregano
Onion Leeks

Garlic Leaf

Bay Leaf
Basil
Lemongrass or Tanglad
Pandan Leaf
Kasubha
Parseley
Onion Sprout
Mint
Thyme
Sage

Filipino Finger Foods Recipes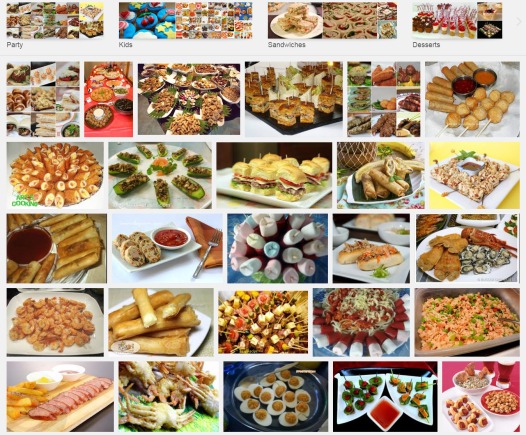 Indulge and enjoy our list of the different Filipino finger food recipes below. Click on a link to read reviews, cooking procedures, ingredients and how to cook it the Filipino way. See our photo of the different delectable dishes found in almost every noche buena, medya noche, birthdays, fiesta and other occasions and celebrations by Pinoys

Filipino Christmas Food Recipes - For Potluck and Party

Occasions are the heart of the Pinoy tradition of festivals and it so happened that one of the most important celebrations that Filipinos enjoy cooking local dishes is during Christmas season. It could be either for family reunion, group gathering, Christmas party or so but the idea is to cook for potluck, an idea of food contribution slowly getting so popular during this time of the year.
So here is a gallery of the different Filipino Christmas food popularized by the age-old tradition of Pinoys and their idea of a true feast during the commemoration of the birth of Jesus Christ in December 25 of every calendar year.

List of Filipino Food Lovers Blogs and Bloggers

Pinoys here and around the world love to be proud about the Filipino culture. As part of the tradition of cooking during feasts and celebration, blogs have popped out here and there like mushroom writing about reviews of the different authentic Filipino food recipes and dishes. So here is our list of the blogs, bloggers and their journals.

Filipino Party Foods

Parties, this is what Pinoys don't run out of a bright idea about which best to cook or contribute for food gatherings. Parties these days get a make up of sudden organization or impromptu which means at an idea's spark of the barkada or tropa, group gatherings small or big get its form. In any Filipino party food, the idea of a potluck is always an option. Here is our list below.

Street Food Gallery

Cooking the Pinoy way will never be the same again without the popular most delectable authentic street foods that you can buy today even in groceries and big malls like SM City, Robinsons, Puregold, Ever and many more. Food courts and food cart businesses have also fused these popularly cheap foods in their foodcart packages. So the list grows but allow us to enlighten you with the weird yet unique and exotic sounding and looking to your eyes - our street food gallery of different cooking styles for Filipino food recipes of today.