Bulacan Resorts - List of Public, Private Pool and Hot Spring Resorts in Bulacan Area
Sam, Ana and Tj's collection of Bulacan resorts listings previously visited and searched online, reviewed with photos / pictures, entrance fee rates, food availability, amenities, room and cottage accommodation, reservation, backpacker tips and cheap affordable rates destinations. You may also visit our page that feature other Philippine travel options. We also have particular category for all the different exciting provincial places where you can find the different resorts in the Philippines from beaches to swimming pools to nature spring both hot and cold resort.
There are absolutely plenty of other venues you can find for summer fun in the Philippines here with www.mypilipinas.com reviews where you can celebrate and enjoy any occasion so be sure to check out our pages in the sidebar too.

Resort owner? Have your place listed. Send us a request and invite us to have your nice venue reviewed with photos and video of our family.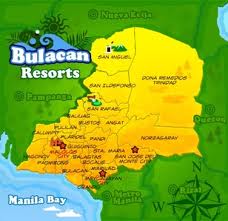 Resorts in Bulacan by Municipality

Private Pools


---

San Ildefonso

San Rafael

Baliuag

Bustos

Angat

Pulilan

Public Pools


---

Calumpit

Plaridel

Pandi

Norzagaray

Malolos

Santa Maria

San Jose Del Monte

Hot Springs


---

Hagonoy

Paombong

Balagtas

Bocaue

Bulacan

Meycauayan

Obando

Marilao

---
Bulacan Resorts Accommodation, Reservation, Dining, Entrance Fee, Room Rates, Amenities and Photos
Team Building




Birthday Venues




Family Reunion




Debut Venues




Seminars

Other Occasions




Anniversary
Bulacan Resorts Photo Collection and Short Review
Below is a short review and photo of the different public and private swimming pool resorts you can find in Bulacan area and it's municipalities. Click on picture to see room rates, entrance fee, amenities and other details.

4K Garden Resort - Situated in Sta. Maria Bulacan, this public pool is a short 1 hour or less drive from Manila.


8 Waves Resort - One of the first to feature gigantic artificial wave pool in a public resort, it's a blast in the plains of Luzon to come here. See picture guide map on the left to know how to get there.


Adventure Resort - No website available but is definitely recommended for a public swimming pool in Bulacan. Fun summer swim to all patrons await on visit plus cheap accommodations too.


Amana Waterpark - We've been here and I must say it's one of the biggest with many pools of variants but the wave pool doesn't have smooth floor. Extra care must be observed to cut your foot.


Bakas River - A nature resort tripping and adventure type of summer in Norzagaray. Clean natural free flowing stream that's mildly cold and refreshing. No secure cottages available so take extra care of valuables.


Baluarte Del Pozzino - Elusive with pictures. No official website but beautiful with lush of green forest.


Big Rock Resort - Exciting new resort in San Rafael Bulacan, it features cartoon figures and super heroes at the entrance.

Inside, it's a big development. We passed by this resort going to Villa Krizelna a few years back.


DJ Paradise - Literally a paradise in its name. Egyptian sort of theme awaits those who come to this Bulacan Resort from the entrance gate to the pools inside this themed pool resort.


Galilee Garden - A garden-themed type of public resort in Bustos, Bulacan. It's a munch punch to come over the see for yourself.


Jed's Island - Cartoon-themed resort with Looney Tunes characters in the photo by Inigo Bautista. It's definitely worth the swim in this Calumpit resort.


St. Agatha - Located in Guiguinto, this paradise had kiddie pool, wave pool and a lap pool to enjoy swim racing. Beautifully-themed resort and well crafted interiors.


Villa Krizelna - A lush of forest fruit trees will greet each visitor with native huts alongside pools near entrance and large parking space that can accommodate tourist bus. The owners are very accommodating as we've been here a few summers back.

We promise to add up more photos as we continue to develop this webpage into a center for Pinoys looking to enjoy and have summer fun in the Central Luzon plains.

Bulacan Resorts in Alphabetical Order with Location

Resorts in Bulacan (Arranged in Alphabetical Order)

4K Garden Resort

- Santa Maria, Bulacan


8 Waves Waterpark

- DRT Highway, Ulingao, San Rafael
12 Waves Resort -

13 Waves Resort -


Adventure Resort

- Norzagaray Gulod, Tigbe

Amana Waterpark Resort

- Pandi Bulacan


Bakas River Resort

- Matictic Norzagaray


Baluarte Del Pozzino's Resort

- F. Viola Hi-way, Caingin, San Rafael

Big Rock Farm Resort

- San Rafael, Bulacan

Carmi's Place and Hotel - San Juan, San Ildefonso

Ciudad Clementino Resort - San Isidro, 001, Paombong
Cool Waves Ranch and Waterpark Resort - San Nicolas, Bulacan
Cool Water Resort - San Nicolas, Bulacan


DJ Paradise Resort and Hotel

- Malolos City
Dream Wave Resort - Bocaue, Bulacan

EFCOR Garden Resort (CM2) - Tubao, Sulucan, Angat

EL-Niño Resort - Sabang, Baliuag

Falcon Crest Resort - Lingunan, Partida Norzagaray

Farm Master Resort

- San Miguel Bulacan

Filipinas Swimming Pool - San Ildefonso


Galilee Garden & Mansion Resort

- Gen. Alejo Santos Highway, San Pedro, Bustos

Golden Forest Resort - Poblacion, Norzagaray
Grass Garden Resort and Villas - Plaridel Bulacan

Grotto Vista Resort - San Jose del Monte City
Gubat sa Ciudad Resort -

Hidden Sanctuary Hotel and Resort - Marilao, Bulacan

JE Resort - Sabang, Baliuag


Jed's Island Resort

- Calumpit

Jerenoeza's Resort - Kimpo St. San Juan, San Ildefonso

JGH Recreation and Livelihood Park - Tubao St., Sulucan, Angat

Jogima Farm Resort

- Tabang Bulacan

Klir Waterpark Resort - Guiguinto, Bulacan

KP's Resort - A. Santos Highway, Bustos

Malamig Park Resort - 410 Malamig, Bustos

Malolos Resort Club Royale - Malolos City
Mansion Holiday Resort - San Miguel

Millennium Resort - Liciada, Bustos

Ocean's Edge Resort - Poblacion, Norzagaray
Pacific Waves Resort - San Jose del Monte

Paradise Adventure Camp Resort - San Jose Del Monte

Paul Cruz Place - Sapang Putol, San Ildefonso

Prince Kevin Resort - Poblacion, Norzagaray
Princess Rica Resort - 425 Malipampang, San Ildefonso

Pugpog River Resort - Poblacion

Pulilan Butterfly Haven and Resort - Pulilan

San Miguel Leisure Farm Resort

Sitio Lucia Resort Hotel & Training Center - Santa Maria

St. Agatha Resort

- Guiguinto, Bulacan

Summer Place Resort - Tibagan, Bustos
Tierra Fontana - San Jose del Monte

Vanguardia - Sapang Palay, San Ildefonso
Villa Antonio de Dave Resort and Leisure Farm - San Jose del Monte
Villa Carolina Resort - Norzagaray, Bulacan

Villa Cecilia Resort - Gabihan, San Ildefonso
Villa Christina Resort - Balagtas, Bulacan

Villa Concepcion Wet & Wild Waves - Pandi

Villa Del Carmen Resort - Capihan, San Rafael
Villa Esperanza Resort - Santa Maria, Bulacan

Villa Filomena Resort - Marilao, Bulacan
VIlla Josefina Resort - Balagtas Bulacan

Villa Krizelna Resort - Coral na Bato, San Rafael
Villa Lorenzo - Pulilan, Bulacan

Villa Mikaela Resort - 133 Ulingao, San Rafael
Villa Natalia Resort - Santa Maria, Bulacan

Villa Reina Resort - Malolos Bulacan

Villa Remedios Resort - Balagtas, Bulacan
Villa Rosalinda Resort - Malolos, Bulacan

Villa Virgen Milagrosa Resort - Balagtas, Bulacan

Waterland Resort - Tubigan Mayor, Bustos

Heritage Site Travel Options Other than Bulacan Resorts

We will regularly update this large list of Bulacan resorts as well as our other listings for Philippines resort destinations. To keep up to date, we strongly suggest that you subscribe to our RSS feeds in the sidebar.
Other Travel Options in Bulacan
Bus Commute
Jeepney Commute
Taxi Commute
Car Routes
Recommended Sights, Places and Tourist Attractions to Visit
Below is our own list of recommendations that you must not miss when visiting for Bulacan resorts in this province near Metro Manila. This list hopes to allow you to enjoy the beauty of the plains of central Luzon and the different historical and heritage sites that are rich in history beyond what Bulacan is all about.
Baliuag Clock Tower
San Agustin Parish Church
Enriquez Ancestral House
Meyto Shrine
St. John the Baptist Church in Calumpit
Barasoain Ecclesiastical Museum
Basilica Minor de Immaculada Concepcion

Bulacan Museum in Malolos
Casa Real Shrine
Marilao Catholic Church
Simborio Chapel
Tecson House in San Miguel

Marcelo H. del Pilar Shrine
Old Train Station in Guiguinto
Francisco Balagtas Museum
Plaridel Catholic Church
Francisca Reyes Aquino Shrine
Baliuag Museum
Shrine of Saint Andrew Kim in Bocaue

Bautista Mansion in Malolos

Bagbag Bridge
Mercado House in Bustos
Battle of Quingua Monument
Museo San Ysidro de Pulilan

Bulacan Resorts Map

View Larger Map