8 Waves Waterpark Resort & Hotel in San Rafael Bulacan

8 Waves Resort is a swimming pool resort in Bulacan, designed with artificial infinity waves.
It is located in San Rafael and is very easy to find if you want to know how to get there using our map.
Resort owner? Have your place listed. Send us a request and invite us to have your nice venue reviewed with photos and video of our family.

We have a map of the resort below as well as other relevant information you might need about this hotel and resort in Bulacan area.
Part of our listing includes resort amenities, pictures, cottage and room rates for both single and double occupancy, promos (if there is any latest), how to avail of cheap rates, if food and drinks are allowed including resort rules in swimming attire and more.

---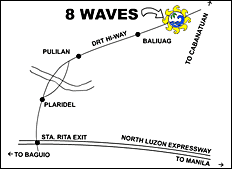 Resorts in Bulacan Per Municipality

Below is a list of Bulacan resorts based on a per municipality. We will also be updating this post by featuring which among these resorts offer hot spring options to customers and visitors / patrons as well as categorizing them whether for public or private use swimming pools only.

Private Pools


---

San Ildefonso

San Rafael

Baliuag

Bustos

Angat

Pulilan

Public Pools


---

Calumpit

Plaridel

Pandi

Norzagaray

Malolos

Santa Maria

San Jose Del Monte

Hot Springs


---

Hagonoy

Paombong

Balagtas

Bocaue

Bulacan

Meycauayan

Obando

Marilao

---
Resort Accommodation, Rates, Parking, Amenities, Entrance Fee, Dining, Opening & Closing Schedule and Latest Promos

Resort Opening and Closing Schedule
Open Daily Including Holidays

9:00am-6:00pm (day swimming)

6:30pm-12:00mn (night swimming)
Night swimming options are entertained at the resort for both kids / children and adult alike. They have competitive and affordable rates for these choices. Visit their official website for more information.
---
A. Resort Rates (Day Swimming)

ADULT - P250.00

CHILD (4ft. & below) - P200.00

SENIOR (w/ ID) - P200.00
B. Resort Rates (Night Swimming)
ADULT P150.00 (Mon-Thur) / P250 (Fri-Sun)
CHILD (4ft. & below) P100.00 (Mon-Thur) / P200 (Fri-Sun)
SENIOR (w/ ID) P100.00 (Mon-Thur) / P200 (Fri-Sun)
C. Cottage Rates
18 persons P800.00
13 persons P600.00
Bamboo Hut Rates
45 persons P1,500.00
22 persons P900.00
19 persons P800.00
12 persons P600.00
12 persons P500.00
12 persons P400.00
12 persons P300.00
Function Room Fees and Rates
50 persons F Rm1 P4,500.00
50 persons F Rm2 P4,500.00
50 persons F Rm3 P4,500.00
50 persons F Rm4 P4,500.00
200 persons F Rm1-4 (combined) P14,000.00
Billiard Pool Rent (Per Hour Basis)
P 120.00 (regular season)
P120.00 / hr (peak season)
---
Swimming Attire Rules
Male: trunks / cycling shorts or garterized shorts above the knee
no shirts allowed
Female: bathing suits / cycling shorts/ garterized shorts above the knee
sleeveless or sando shirts only
Please note that foods is now allowed inside the resort while drinks and alcoholic beverages may not be brought inside the resort. Please call their hotline telephone number regarding this matter as all resort details are subject to change without prior notice anytime.

T-shirts, maong shorts, basketball shorts and denim are not allowed inside the pool.
---
Resort Contact Details

Resort Location Address: D.R.T. Highway, Ulingao, San Rafael, Bulacan, Philippines;
Zip Code: 3008

Phone     (+63) (44) 766-5268 / 766-5936

Telefax     (+63) (44) 766-5272

Email     info@8waveswaterpark.com.ph / eight_waveswaterpark@yahoo.com

Manila Line:     (02) 299-8234

Manila Telefax:     (02) 742- 0063
Official Website: http://www.8waveswaterpark.com.ph/
Facebook Page: http://tl-ph.facebook.com/pages/8-waves-waterpark-hotel/141885186769
Reminder:
Monday-Thursday-No waves & bubbles
Friday-Sunday- FULL OPERATION
Other 8 Waves Resort Amenities:
Waves pool

Bubble pool

Mini Olympic pool

Kiddie pool with noah's ark

Safari pool with slides

Pancake House

Neptune's Diner

Clinic

Ambulance

Cottages
---
8 Waves Resort Map and How to Get There Guide via Commute

Here is a guide using Google Maps Philippines if you want to know how to get to 8 Waves Hotel and Resort in San Rafael, Bulacan. This guide is applicable to both a commute option and if you have your own car to travel all the way from Metro Manila.

We hope that with the information we have provided above, you may be able to make your own review and comparison of other wave pool resorts in Bulacan in the likes of Amana Waterpark, Cool Waves, 12 Waves (Tierrra Fontana), Dream Wave, 13 Waves and more.

View Larger Map