SSS Contribution - Payment and Online Inquiry or Check Member Account Status
There are so many types of SSS contribution for your membership account in the Philippines as well as for branches abroad thru the different Philippine Consulate offices of the DFA. There is contribution payment for (yearly / semi-annually / quarterly) monthly premium amortization and loan payment monthly remittance.
With the different growing partnerships launched recently by the Social Security System Philippines with BancNet, UnionBank and BPI Express Online, it is now possible to pay for your loan repayments as well as member monthly amortization contribution.
In my own case, just to tip off Pinoy members anywhere in the Philippines and in other countries around the world, contribution payments are now becoming easy as pie when it comes to services catering to online payment system. I have done and experienced on a personal basis how to pay for SSS monthly contribution and that is through the different Bayad Centers .
You can get and download the R-5 or employer contribution payment return form in our page for SSS forms .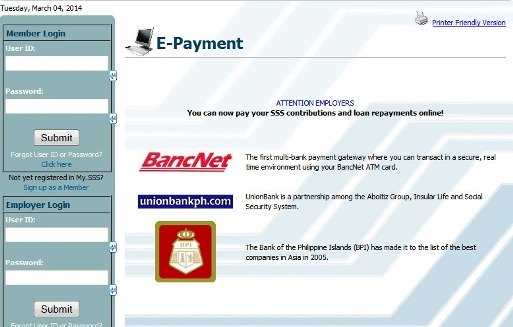 SSS Contribution Payment Procedures and How To Pay Instructions

If you are looking for information on how to pay for your monthly remittance or monthly SSS contribution, please read below.

1. Fill out this form in three (3) copies and accomplish appropriate boxes as follows:
   a. For business employer - employer number, business name, business address and business TIN as registered with the SSS in
"Employer Registration" (Form R-1)
   b. For household employer - employer number, household employer name, home address and personal TIN as registered with the SSS in "Employer Registration" (Form R-1)
2. Place a checkmark on the applicable box.
3. Always indicate "N/A" or "Not Applicable", if the required data is not applicable.
4. Remit your contributions following the payment deadlines below for both the business employer and household

"In case the payment deadline falls on a Saturday, Sunday or holiday, payment may be made on the next working day"
If the 10th digit of the 13-digit Employer (ER) number ends in: / Payment deadline following the applicable month

1 or 2 - 10th day of the month
3 or 4 - 15th day of the month
5 or 6 - 20th day of the month
7 or 8 - 25th day of the month
9 or 0 - Last day of the month

5. Remit the monthly contributions of your employees/household employees through any of the following:
   a. SSS branch office with tellering facility
   b. accredited banks
   c. authorized payment centers
6. Make all checks and postal money orders payable to SSS. Fill out properly the check details in the "Form of
Payment" portion.
7. Submit a copy of validated "Employer Contributions Payment Return" (Form R-5) or "Employer Contributions
Payment Return" (Form R-5) with Special Bank Receipt (SBR) together with the corresponding "Contribution
Collection List" (Form R-3) within ten (10) days after the applicable quarter or "Contribution Collection List"
(Form R-3) in electronic media device within ten (10) days after the applicable month to the nearest SSS branch office .
For voluntary payments, please use and download the RS-5 form.

SSS Branches Where You Can Pay Monthly Contribution Amortization

Below is the list of the different offices in the Philippines as well as abroad where you can pay and make an inquiry regarding your SSS contribution as well as loan payment and repayments.

5 Effective Ways to Inquire for SSS Contribution in the Philippines

Ever heard of the official hotline telephone numbers of the SSS?
Or perhaps you are just too busy to read and notice that so many things have changed in the social security system that you probably did not realize that even without moving a foot, you can actually inquire about your member contributions?
Or probably you didn't know how to sign up for an account online or that there is a an OLD system for using txt messaging to get information about your static information.
There are also those who don't know or heard about the word "pakisuyo" with the use of authorization letter or hiring someone and paying them to take care of the information you need to know for a minimal fee.
Heard about the SSS call center? Perhaps you haven't heard about their IVRS inquiry system. This is your chance.

I. Online Account Registration by Enrolling to My.SSS

My.SSS, one of the most neglected by majority of the Filipinos when talking about online account registration. Very few would know and realize the convenience of a one time effort and a lifetime of easy online inquiry advantage.
The Social Security System through their My.SSS membership account allows online registration so you can make an online inquiry later without the need to fall in the longest line of your life by visiting the nearest branch in your area.
Just visit here - https://www.sss.gov.ph/sss/register.jsp to sign up through an online service portal where SSS members and employers can get access to exclusive social security account records and make any allowable online transaction.
Just imagine getting absolute and unlimited access to your SSS records anytime and anywhere right from the comfort of a computer. I mean, it's everywhere. Computers can now be found in malls, communities through internet cafe and pisonet machines so there really is no way you would not want to use that advantage. Also, with an online account, you can use your mobile phone anywhere you may be for as long as you have access to a wifi hotspot or an internet which is usually free around the metro.
Watch a guide video below for easy and stress-free online registration at My.SSS.

Inquire Thru Txt / SMS Messaging

II. The Text SS (SMS) and Messaging Inquiry System

Everybody had a cellphone unit these days. This makes it easier for all Pinoys to make an inquiry regarding all or any member records. Via the text SSS inquiry system, any member may get or know latest social security information from loan status, monthly contributions made, loan payments and more.
Step by Step Procedures

Register using this format SSS REG <SS Number> <Date of Birth MM/DD/YY> and send to 2600
How to do this: Type in your mobile phone or gadget (iPod / iPad / iPhone / tablet) SSS REG 0123456789 06/05/70 then send it to 2600. If you are successful in your registration, you will receive a txt back with your PIN number which you can now use in all transactions.
The Computerized IVRS SSS Contribution Inquiry Hotline Numbers

In case you did not know it yet, there is this currently and recently provided system for inquiring about your SSS records and membership status. It's called the IVRS or Interactive Voice Response System.
In this type of SSS contribution inquiry, you will have to make a call to their official hotline numbers which I have listed below for your information. It is a computerized voice instruction procedure where certain pre-made questions will be asked to the member similar to that of the PLDT hotline service 171 and 172 for their broadband and landline service.

III. IVRS Hotlines:
917-7777 (Metro Manila) 

446-5902 (Baguio)

982-8739 (Tarlac)

562-9289 (San Pablo)

472-9795, 472-8842 (Naga)

234-2053 (Cebu) 

227-7273 (Davao)

992-2014 (Zamboanga)



As an alternative, you may also call 917-777 through Globelines nationwide toll-free number.
IV. Using the Call Center to Make Inquiry

Social Security System now had a call center which you can call to avoid the hassled of getting hung up by customer service reps in a designated branch when inquiring about your SSS contribution and other related static information.
Although both have a similar function, a call center agent will definitely answer your concern and attend to you ASAP as well as give you the proper instruction on how to go over with your problem or concern.
Call Center Hotline : 920-6446 to 55

Remember that this hotline is a 24-hour call center service open only during weekdays and working hours.
As a member, it is strongly suggested to exercise patience and proper conduct in conversing with the customer service agent all the time.
Just like you and me, they are humans and unlike office reps, they are definitely there to serve good useful information regarding any member concern and inquiry. If you've gone used to being neglected by calling a nearby branch to ask about your SSS contribution, here, the people would be glad to serve their purpose.
Pakisuyo System of Inquiry for SSS Contribution

V. Pakisuyo System

With the growth of the service to Filipinos by the Philippine government and the private and public sector, one of the unpopular ways to go over with not having time to make an inquiry or get a document or information you need and make a request and go through the different processes involved in it, Pinoys found a way to make business and earn from serving these types of needs.

Introducing www.pakisuyo.com. A business catering to those who do not have time to work out acquiring a document or information like DFA passport application , NBI clearance , Visa, SSS static information, NSO birth certificate , CENOMAR, school documents, LTO license , LTO motor vehicle inspection report, LTFRB docs, SSS contribution and the like. This particular service offers taking care of all sorts of needs that you can make pakisyo with including simple payments you need to make to the nearest bayad center outlets .

Although the word pakisuyo has become a popular word for immediate relatives, there is now a service Filipinos can rely on when it comes to similar types of needs to opt in for pakisuyo. Otherwise, you can always issue a letter of authority duly notarized and have someone, usually a nearest relative take care of your needs and processing.

SSS Contribution Table 2014

For those members who might find use with the SSS contribution table of 2014 . The latest version is now out and can also be viewed at the official website. In the meantime, let us post a copy of the image below as taken from the site.