Tumbong Soup Recipe - A Comfort Food for Manila Mayor Isko Moreno in Tondo
Home to some of the world's weirdest exotic foods is the Philippines. This ranges from gory looking and smelling street foods to local favorites like the duck egg embryo (balut) known all over the world today. It was even featured in one of the most popular food segments in Food Network hosted by Andrew Zimmern.
Brief Overview of Tondo - Home of the Tumbong Soup Made from Primary Ingredient Pork Rectum
Tondo Manila is perhaps the busiest and densely populated place in Metro Manila and the Philippines. It is home to many traditional, unique and awesomely delicious comfort foods in the country. With a Tondo Boy in the seat as the current Mayor of Manila, Isko Moreno is surely blasting off the media with his unique Tondo accents. He actually started to become an apple in the eye of Pinoys when he started his term this year by braving to clean the streets of Recto in Divisoria. and Quiapo, Carriedo and Sta Cruz area.
This ranges from his choice of words, food and places to go as if promoting local tourism by letting Pinoys and people around the world know there is more to offer in Tondo than just the bad publicity we read from the news or watch on television.
Tumbong Soup as Featured in UKG Morning Segment (Video)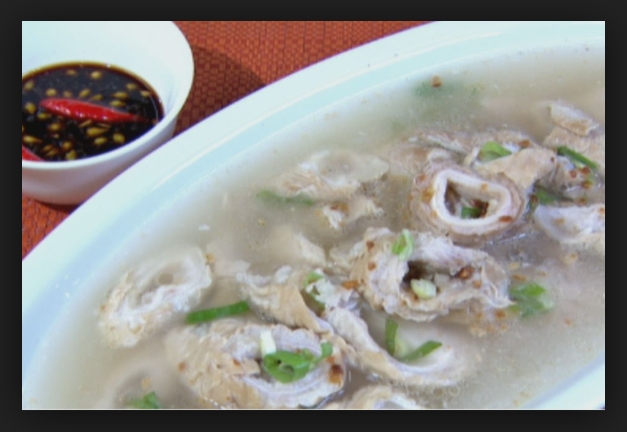 Today, August 4, 2019 on a Sunday morning, I suddenly found myself browsing Facebook and saw one of the most interesting food finds I never knew existed. All of this because I saw an interview vlog by news correspondent, Ces Drilon in her Ces in the City segment with Manila Mayor Isko Moreno a certain local Tondo delicacy. This food is called Tumbong soup. And today I am on a mission to search for that karinderia where I can find it and possibly try tumbong soup for myself.
Sadly, I didn't find any but instead, I found out that ABS-CBN thru their regular morning program Umagang Kay Ganda had already posted a recipe on how to make or cook this exotic food. This soup is an original by the family of Mang Rado back in 1994. The owner said the recipe was actually taken from their lola. Please watch a video presentation from UKG below.
Tumbong Soup Recipe and How to Cook
Ingredients:
1 kilo of pork rectum (tumbong ng baboy)
5-8 cups of water (depending on how much you are cooking)
1 teaspoon roasted garlic
1 teaspoon spring onions (dahon ng sibuyas)
salt (to taste0
How to Cook Tumbong Soup:
Wash the pork rectum (tumbong ng baboy0 carefully both inside and out while removing any waste material.
Wash again but this time use salt to squeeze out the intestine and remove any unwanted odor.
Boil in water for about 1 hour and discard the broth.
Boil for a second time until estimated to be soft and comfortable to eat by sticking a fork.
Slice diagonally into small bite-sized pieces and place in a soup bowl.
Season with salt, roasted garlic and spring onions.
Pour the broth from the boiled pork rectum in the bowl and serve.
This soup is best served with fried rice, deep fried roasted pork lechon kawali or tapa and with a special sauce in chili oil. To know more of the exciting one-of-a-kind Filipino Recipes, please see our sidebar topics.