Dolce Amore Teleserye - Trailer, Cast and Episodes Featuring Liza and Enrique Soon On ABS-CBN (LizQuen)
After last years Forevermore, LizQuen is back with Dolce Amore teleserye. It will air its pilot episode soon and we will see the chemistry of the love team of Liza Soberano and Enrique Gil once again for free via ABS-CBN channel 2 trying to prove even more that there is forever (#mayforever).
For those who now have the magic box, ABS-CBN TV Plus, it's going to be a nightly affair again while for Pinoys, OFWs and those who are living, working and have migrated abroad, TFC will open up to new surprises once again as Dolce Amore teleserye comes in to replace Pangako SaYo remake soap by KathNiel (Kathryn Bernardo and Daniel Padilla) originally done by Jericho Rosales and Kristine Hermosa.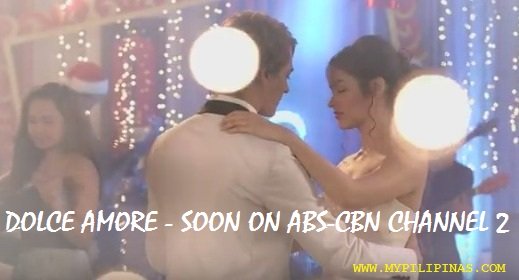 Dolce Amore Teleserye New Trailer, Cast of Characters, OST and Review

Want to watch the latest (new) trailer of Dolce Amore teleserye? We have it below as the wait continues to thrill all soap fans all over the Philippines and around the world for the new "kilig" serye which will absolutely be brought by the tandem of Enrique Gil and Liza Soberano (LizQuen).

As i've always been so sure will happen, the list of cast of characters for this new ABS-CBN teleserye will renew everytime. It is expected to grow and add up each time just like how the Philippines has grown its population thru the years. I am confident guest characters will appear in upcoming nightly episodes just like how it worked for many past hit soaps by the Kapamilya Network.

Complete List of Cast of Characters:


Main Cast

Enrique Gil as Simon Vicente "Tenten" Ibarra
Liza Soberano as Serena Marchesa
Supporting Cast

Matteo Guidicelli as Giancarlo
Cherie Gil as Luciana Marchesa
Rio Locsin as Taps Ibarra
Sunshine Cruz as Alice
Edgar Mortiz as Dodoy Ibarra
Andrew E. as Uge Simeon
Kean Cipriano as Binggoy Ibarra
Frenchie Dy as Diddie
Ruben Maria Soriquez as Roberto Marchesa
Special Participation

Donna Cruz as Roberta Soriano-Marchesa
ENRIQUE GIL AND LIZA SOBERANO

(image courtesy of astig.ph)

Short Information About the Soap:

For the benefit of those who didn't know what Dolce Amore means - it's "sweet love". This new teleserye is produced by Myleen H. Ongkiko and this romantic comedy series scenes were shot in the midst of the lovely places of Manila, Philippines, Rome, Italy, Bologna, Italy and Dubai, United Arab Emirates (UAE).
Falling under the romantic comedy genre, the exciting and love-filled soon-to-watch Dolce Amore teleserye is created for television by the immortal mind of Olivia M. Lamasan and Henry Quitain for primetime tv. In Wikipedia, it is said to have been developed further for creativity and cinematography by Malou N. Santos and Des M. De Guzman.

Written by Mark Duane Angos, Enrique S. Villasis and Mary Pearl Urtola. This love story is to be directed by Cathy-Garcia Molina and Mae Czarina Cruz-Alvear.
OST or official sound track (theme song) composed by the Alamid band and song sung by Juris. This soap also had a touch of Italian language from time to time as the setting justifies it from where Liza Soberano, the princess came from.
To be shown all over the Philippines and abroad thru ABS-CBN TFC (The Filipino Channel) by Star Creatives while official airing of pilot episode is scheduled a day after Valentine's Day on February 15, 2016, Monday in primetime bida slot possibly replacing the remake of Pangako 'Sayo .