ABS-CBN TV Plus - Watch Free Teleserye with Digital TV Box (Mahiwagang Black Box)

Ang "mahiwagang black box" - ABS-CBN TV Plus is a digital tv that provides free tv channels to watch your favorite teleserye with digital clear recepcion of the signal. This new product by ABS-CBN is currently being advertised by the Pop Star Princess, Sarah Geronimo and Coco Martin as the product commercial models.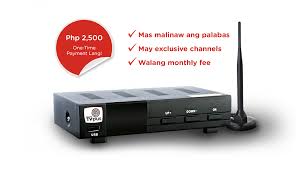 ABS-CBN TV Plus Specifications, Inclusions, Customer Support, Store, Where to Buy and How Much is the Fee

Can't stop the popularity of this magic black box that turns your daily teleserye viewing into a digital clear and comfortable high definition drama for FREE. For those of you who are looking for information online on where to buy the digital box, here is your chance. ABS-CBN has provided their own online store where you can see more information from specification, price, subscription, inclusions, included channels, customer support and service, shipping and ordering, toll-free hotline telephone numbers, tv compatibility, signal and frequency availability and areas covered in Manila and provinces. Today, you can buy this modem box at any SM Stores and groceries nationwide with a discounted price of PHP 1,499 instead of Php 2,500 from the first offer.

ABS-CBN TV Plus Inclusions and TV Compatibility:
This digital box is offered at an affordable, one-time payment price of only P2, 500.00 per unit. There is literally NO monthly fee. It also includes 1 ABS-CBN Mobile prepaid SIM with a load of Php 50.00 available for regular cellphone / mobile phone use for text, call and other related services. It is also very much compatible to almost all types of television, imported or locally manufactured for as long as it has an (A/V) audio-video input jack. Comes also with 4 additional exclusive channels without additional cost that you can watch too!

Customer Support and Service Telephone Hotline:
Customer support for ABS-CBN TV Plus
- 23661 Text support 
- 488-8888 Call hotline 
- 1800-10-4888888 toll-free outside MM
Please note that delivery takes 6-8 business days from date of order due to bulk orders but a free shipping is offered nationwide.
Areas Covered:
Metro Manila
Rizal

Cavite

Laguna

Bulacan

Pampanga

Nueva Ecija

Tarlac

Pangasinan

Benguet

Metro Cebu

3 Ways to Buy the Black Box

There are basically just 3 different ways with which you can get a hold and buy this magic digital black box for your television to turn into a daily digital viewing instead of analog outdated viewing.
These are either you buy from any of the authorized dealers and sales agents listed below. Second, you can do an online order which will involved a credit card. BancNet deposit or Paypal funds and the third and final way to buy is through calling their hotline numbers here -
Mag-text sa 23661 o tumawag lang!

Landline: 488-8888
Toll-free hotline: 1-800-10-4888888

ABS-CBN TV Plus Digital Box Stores, Dealers and Accredited Sales Agents

There are currently so many accredited dealers and sales agents who are authorized to transact sales of the digital tv box by ABS-CBN in Metro Manila and major cities in Luzon and Metro Cebu area. So far we have a shortlist so you won't get scammed.
SM Appliance
Hardware One
MSE Natasha
Quiapo Raon Stores (Please call hotline numbers to ask about the list)
Rolasco Electronics
88 Watts Sumulong
FMJ Electronics in Binangonan
Sony Authorized Service Centers
AV Surfer Branches
2Go
Silicon Valley
Villman
Puregold (selected outlets)
Ambassador
Asianic
Complink
Accent Micro
PC Hub
PC Express
PC Corner
PC Worx
..... many more on the list (ask by calling customer service hotline above)

Channel Included in the TV Box

Just like your ordinary digital cable box or modem, the ABS-CBN TV Box offers buyers and viewers the chance to watch different custom viewing shows and programs using local channel frequencies. Apart from that, the bonus is you can watch latest and recently shown cinema dramas and movies at very low cost using the ABS-CBN mobile plus. How to do this? Watch the daily commercial on Channel 2 which is featured especially during primetime bida shows like Ang Probinsyano and La Luna Sangre or A Love To Last.
CineMo
Yey
ABS CBN S+A Sports Action
DZMM Teleradyo
KBO Movies

Knowledge Channel
ABS-CBN Channel 2 Shows
GMA 7
UNTV