USTET - UST College Entrance Exam, Results, Reviewers and Tips to Pass Admission Test

Yearly, high school graduates flock to University of Santo Tomas to take  USTET  (ust entrance test) in one of the most sought after and oldest college universities in Asia. (full photo credits to TomasinoWeb.Tumbler.Com)
Having a daughter who is a candidate for magna cum laude next year 2015, I would like to share tips for both parents and students so they know how to pass USTET without even taking up review classes from review centers out there who practically do not even know what the actual exam is all about or what topics and questions in the questionnaire will cover the exam.

It's about time that students know. This still applies up to today 2017.

I've visited literally hundreds of forums, Yahoo answers and seen countless USTET reviewer pdf files but none of them really works in giving tips so I asked my daughter who took it 3 years ago.
For size, if you are an honor student in your high school days, be careful, you are most likely to fail even in reserve status for reasons I do not know. Why? Universities have become a commercial commodity these days and most if not all of them will not want another FREE STUDY student in their backyard.
This is just a hunch, an opinion based on experience so do not take it seriously. Just study and prepare hard. I will feature review tips on how to pass this entrance exam as well as how to prepare the right way.

USTET Reviewer Samples and Tips on How to Pass Entrance Admission Exam

Below is a sample list of time pressure test for the UST admission examination. To tip you off, please see details as posted from other blogs online from actual students who took and passed the entrance exam.
Be sure to practice on your vocabulary as the part where synonyms and antonyms take you to the least encountered unfamiliar words of choice as part of the test coverage.

Sample USTET Coverage Questionnaire Under Time Pressure

Mental Ability test with 80 items - 30 minutes
English with 80 items - 45 minutes
Math with 60 items - 45 minutes
Science with 80 items - 45 minutes
UST Admin and Admission Hotline Numbers
Office for Admission (OFAD)
Address: Rm 104, Ground Floor, UST - Tan Yan Kee Building and Student Center, University of Santo Tomas, Espana, Manila
Telephone: (632) 406.1611 local 8276 / (632) 310.7211
Mobile Phone: 0917.815.63.23
Fax: (632) 310.7214
Email Address: ofad@mnl.uset.edu.ph

12 Tips on How to Pass UST Entrance Test
There are so many tips online from blogs to forums to Yahoo answers and Google as well as docstoc pdf files featuring the different segments of subjects included in the entrance exam of University of Santo Tomas. But our admission test tips below is based from an actual experience that might help future examinees maximize chance to pass USTET .

Apply and target to be on the first batch of examinees. See official schedule from UST official website.

Choose a non-quota course as first choice. On your application (online or offline), sign up for a course that is not in demand or with no quota with exam passers. Do not worry, you can try to cross enroll or transfer to your original course afterwards. (note that this is a worse case scenario)
Capitalize in training on answering questions under time pressure. This is the most important aspect that should be practiced by the student examinee.
Know what subjects are included in the exam from students who are already studying there or from neighbors and relatives or friends who went through the test before and passed.
Enroll in a review center as you feel necessary but I'm telling you there is no guarantee even if you took review class from any USTET review centers in Manila or neighboring provinces.
Give yourself a cool relaxing break at least 1-2 days before the actual schedules examination date.
While on that break, eat only nutritious, healthy, memory enhancing, alkalizing, oxygenating and blood cleansing foods. Take spirulina, nuts, eggs and other familiar foods.
Read the FAQs found at the official UST entrance test page or visit here .
Prepare for all you will need as listed in your exam cheat sheet 1 day before the actual exam date.
Go to the actual assigned room 1 day before the exam. This will help you with a less stress travel and finding your room.
Have enough sleep the night before the exam and call UST OFAD hotline one last time. We have listed the contact numbers above.

Read the USTET application guidelines here - https://ofad.ust.edu.ph/faq/
Download USTET Application Form Online and Apply Now

For those who did not know it yet, coming from a far province or city or municipality makes it a bit hard to take the entrance test of UST so there are ways such as applying online at the UST official website. You can fill up and download the application form here.

USTET Review Centers in Manila and Provinces

Many review centers offer UST entrance test review classes and say they are the best and cheapest. I say, don't go for the cheapest, go instead for the institution that many authorities endorse or refer. Try to ask somebody you know, a student to make an inquiry from professors on what is the best choice for a review center to enroll with. This is called review center shopping and we happen to have a list below

Another good technique in choosing is by trying to read from books published by professors themselves or from Thomasian authored books about the entrance exam (if there is). Visit National Bookstore and other popular resources where you can proofread.
How Much Fees and Discount for Review Classes
Regular Fee usually starts from Php 5,000.00 - Php 7,500.00 but cheap as most of you would want, here are possible rates for discount you can ask for if you have the K. Sorry for others but this is the way it works. I only saw these discount rates on Facebook from some unknown review center that did not post their business name on the file. Just be sure to ask your review center for these rates just in case you are qualified. For those who are lucky enough, you might find FREE pdf file review questions online. It will depend on your skill to search and research using the internet. Great sources would be docstoc.com and scribd.com.

Discounted Fees

Valedictorian - Php 1,500

Salutatorian - Php 2,000

1st to 5th Honorable mention - Php 2,500

SCIENCE high school students - Php 3,500

PUBLIC high school students - Php 3,500

Group of FIVE students - Php 4,000/student

Group of TEN students - Php 3,500/student
List of USTET Review and Training Centers
Excel Advantage Review and Training Center
Prime Advantage Multimedia
Academic One Review and Tutorial Center
Brain Train Review Center
Newton College Entrance Review -
88 hours (inclusive of an 8-hour Refresher) /
20 sessions @ 4 hours per session / accepting reservations

USTET Requirements / Exam Schedule / Application Schedule / Release of Results in 2015 and Campus Map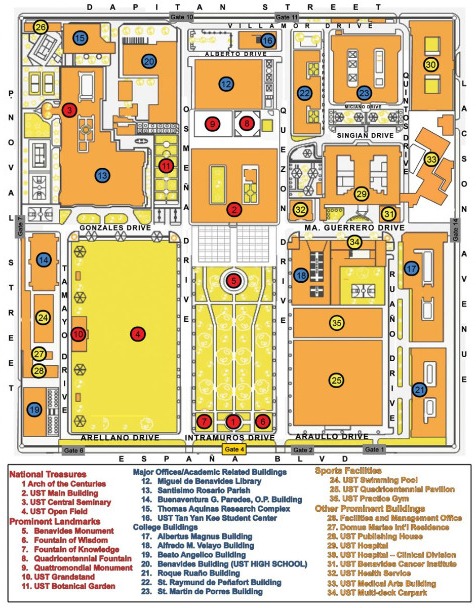 Requirements
Below is the list of documentary requirements which according to guidelines must be sent thru any Philippine courier (Air 21,LBC, DHL etc.) to the Office for Admissions (OFAD), Rm. 104, Tan Yan Kee Student Center, University of Santo Tomas, Espana, Manila. We have listed their hotline numbers above (please see).
Applicants who wish to take the USTET in their PROVINCES should submit the accomplished Application and Grades Form and payment to the nearest Testing Center.
Accomplished Application and Grades Form together with the Information Survey
Clear photocopy of deposit slip (do not send the original copy)
Clear photopcy of NSO birth certificate
Two (2) 2" x 2" recent identical pictures with white background and printed name and signature at the back
Request the Registrar's Office of your school to accomplish the High School Grades Form. Make sure that the school principal or registrar head signs the High School Grades Form. 

Only the School Registrar or Principal may certify the High School Grades Form. 

Affix the school seal for validation. In the absence of a school seal, please attach clear photocopy of Form 137A(Transcript of Records).
Reminder: Test permits will be issued only and exclusively to applicants with complete requirements. They will be notified through an email which will be sent as reply regarding the status of a student's application to take the entrance test. For those who want to visit the campus in advance as we gave on our tip to do so for students, please see the UST map.

Manila Testing Application Schedule

July 1, 2014 - November 29, 2014
Mondays to Fridays
8:00 AM - 11:30 AM/1:00 PM - 4:30 PM
USTET Schedule for 2015 by Batch

First Batch : August 24, 2014 with payment deadline of August 16, 2014
Second Batch : September 28, 2014 with payment deadline of September 20, 2014
Last Batch : December 7, 2014 with payment deadline of November 29, 2014
USTET Results 2015 Release Schedule
Result of the 2014 UST Entrance Test will be posted at the respective campuses on a per course basis on January 28, 2015 . Please stay updated by visiting the official OFAD office or UST website only.