Pangasinan Resorts - Public, Private, Farm Hot and Cold Spring Resorts

Built in rich history, this Northern province boasts of Pangasinan resorts that are ever so popular destination during summer months from March - June. Each year, tourists and Pinoys rush where they can find the finest sand beaches with prestine waves. The most popular so far is the Hundred Islands resorts.
Pangasinan Provinces Popular Stuff

Apart from a long 3-5 hours travel depending on your specific destination, Pangasinan is where you can find farms of different orchards, vegetable crops and fruit trees like mango. It has become popular with the Dagupan bangus and Bani's sweetest and reddest "pakwan" (water melon) where the Pakwan Festival is also celebrated during the valentine month of the heart in February. This makes us say awesome too as when we talk about Pangasinan resorts, we talk about Philippine tourism with the province as one of the top destinations.

Bani also boasts of their own version of grand canyon and niagara falls combined with their Baliwangga Falls, an astounding wonder of more than 100 feet high rage of thousands of gallons of fresh river water in the middle of high stone rocks resembling closely to that of Grand Canyon.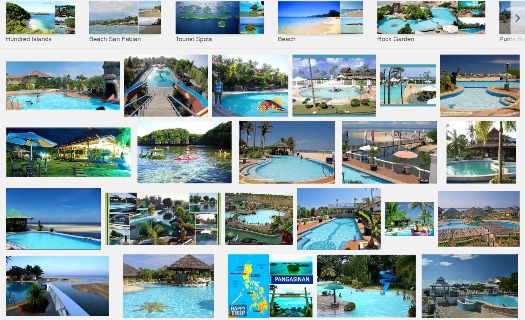 El Puerto Marina
Punta Riviera
Villa Soledad
Leisure Coast Resort
Lisland Rainforest Resort
Goldland Spring
Ilog Malino Beach Resort
San Fabian PTA Beach Resort
Urdaneta Garden Resort
Puerto del Sol
Rock Garden Bolinao
Treasures of Bolinao
El Pescador
Doña Josefa Aquino Beach Resort
Coco's Beach Resort
Ruperto's Inland Resort
G Beach Resort
JCT Beach Resort
Hide Away Sea Resort
828 Gems Beach Resort
Dandan's Resort
Tambobong White Beach
Capitol Resort Hotel
Cacho Beach Resort
Maxine's By The Sea
100 Islands View
Seaside Haven
St. Marie Club
The Hundred Islands Resort Hotel (THIROH)
Bings Beach Resort
Dutch Beach Resort
Garden Paradise Resort
Puerto del Sol Resort
La Hermosa Beach Resort
JT Beach Resort
Sofia's Mountain Home Resort
Villa Nancita Resort Hotel

Gulf Inn and Beach Resort
Isla Bonita Beach Resort and Picnic Grove
Villa Narciso Resort
Virginia Inn and Beach Resort
Felpaver Farm Resort
Leisure Coast Resort
Pyramid of Asia Resort
Charisma Garden Resort
Charissa's Beach Resort and Chinese Restaurant
Lazy A Beach Resort
Sierra Vista Beach Resort
Ruperto's Island Resort
Goldspring Resort and Hotel

Punta Barraca Resort
Golden Flame Resort
Caraballo Spring Resort
A-1 Mountain View Resort
Chino's Resort
Treasure Island Resort
Villa Gonzales Resort
St. Marie Club Resort
Crispina Mountain Resort
White Beach Resort "Dutch Beach"
Balingasay Perpetual Beach Resort
Celeste Sea Breeze Resort
The Last Resort
Ecohill Resort
Fel-Paver Resort
Windsurf Beach Resort
Prime Island Resort
Northern Paradise Resort
RacVille Resort
Villa Monaliza Resort
Agpay Resort
Pila Resort
Pangasinan Resorts Beaches

Cabungaon Beach
Agno Beach
Cabongaban Beach
Tambobong Beach
Lingayen Beach
Patar Beach
San Fabian Beach
Surip Beach
Tondol Beach
47 Pangasinan Cities and Municipalities with Tourist Attractions

Each and every one of these list of 44 municipalities have their own summer place to boast of and special places to visit from beaches to swimming pools. I would like to feature each and every one of them here as we grow the list Pangasinan resorts. We would love to have this page become the largest resource for Filipinos especially those living in the far north of the Philippines to have a center to go when they are looking for Pangasinan resorts.

Agno
Aguilar
Alaminos City
Alcala
Anda
Asingan

Balungao
Bani
Basista
Bautista
Bayambang
Binalonan
Binmaley
Bolinao
Bugallon
Burgos
Calasiao
Dagupan City
Dasol
Infanta
Labrador
Laoac
Lingayen


Mabini
Malasiqui
Manaoag
Mangaldan
Mangatarem
Mapandan
Natividad
Pozorrubio
Rosales
San Carlos City
San Fabian
San Jacinto
San Manuel
San Nicolas
San Quintin
Santa Barbara
Santa Maria
Santo Tomas
Sison
Sual Tayug
Umiongan
Urbiztondo
Urdaneta
Villasis

Beach Resorts and Places to Visit in Agno Pangasinan

Boasting of coastal shores, there is a long list of Agno beach resorts to visit as well as other tourist attractions if you happen to come by in this beautiful place. We have the list below contributing to an even larger list of resorts in Pangasinan.

St. Catherine of Alexandria Church (1610)

Abagatanen Beach

Aloleng Beach

Bali Beach

Bangal Beach

Baruan Beach

Gayusan Beach

Magsaysay Beach

Quibuan Beach

Tupa Beach

Simmumbaan Cave

Bangal Craggs

Umbrella Rocks

Baliwangga Canyons

Manang Letty's Park
Aguilar Pangasinan - A World War II Rich History Tourist Attraction

Popularly known by locals as a place where you can find armaments and remains of the world war II tanks and sights, Aguilar, Pangasinan is definitely one of the few tourist spots to see. Small as the list of historical places to visit, still, it is worth it to come and see.
St. Joseph Church (1810)

Nambersian

Mapita Trail

World War II Landmark
Alaminos Pangasinan Tourist Attractions and Beach Resorts

Apart from being popular as a trail going to the popular hundred islands Pangasinan resorts and summer venues, Alaminos boasts of noodles, boneless bangus and salt as a major product to buy and taste. See our list of tourist attractions.
Parish of St. Joseph Church (1766)

Hundred Islands

Hundred Islands National Park,

Lucap Wharf

Bolo Beach

Caves
Anda Pangasinan Places to Visit

Surrounded by sea, different islands and islets became tourist attractions in this part of Pangasinan in Anda municipality. Come visit these interesting places below.

Tondol White Sand Beach

Pannacalan Island

Cangnaluyan Island

Tanduyong Island

Grotto of St. Lourdes
Local Tourist Attractions, Beach Resorts and Places to Visit if you Come for Pangasinan Resorts

Hot and cold springs, farms, beaches, mountains, swimming pools, history rich places and venues, whatever it is you want to see, check our list below.
Mt. Balungao Hot & Cold Spring
Reedemer's Way of the cross
Bangrin Mangrove Protected Area (birdwatching site)
Surip Beach
Tubong Beach
Nalsoc Cave
Abot-Aso Cave
Balingawa Falls
Matmatbag Rolling Hills
Parish of St. Vincent Ferrer (1614)
Mangabul Lake
Binmaley Beach
People's Park
J.P. Rizal Park
Binmaley Presidencia
Binmaley Museum and Display Center
Binmaley Catholic School
Mary Help of Christians Seminary
Our Lady of Purificacion  Parish Church
General MacArthur Lingayen Gulf Landing Marker
Enchanted Cave
Bolinao Museum
Cape Bolinao Lighthouse
UPMSI (Marine Laboratory) Pacific Farms, Inc.
Bolinao Falls
Tara Falls
Balingasay River Patar Beach
St. Claire Monastery
St. James the Fortress Parish (1609)
Shrine of the Our Lady of Lourdes/Salasa Chruch (1720)
Busay Waterfalls
Mt. Zion Pilgrim's Site
Biak-na-Bato Falls
Gen. Torres Bugallon Park
Cabongaoan White Sand Beach
Sangbay Falls
Danao Lake
Rolling Hills
Pao Beach
Paratek Beach
Divine Image of Señor Divino Tesoro
Sts. Peter & Paul Church (1588)
Cathedral Parish of St. John the Evangelist (1614)
Tondaligan Beach
Dawel River Cruise
Macalang White Beach
Osmeña White Beach
Tambobong White Sand Beach
Magunao Beach
Colibra Island
Balas Nagtaros Island
Nalasin Island
Polo Camaso
Rongaab Cave
Crocodile Island
Noah's Park
Salt  Farms
Majent Agro Industrial Corp.
Parish of St. Isisdro Labrador (1765)
Tandoc Falls
Tinakayan Falls
Lingayen Gulf Beach Club
Limahong Channel
MacArthur Landing Marker
Capitol Building
Urduja House
Sison Auditorium

Epiphany of Our Lord's Parish Church
Ramos Ancestral House/Museum
Lingayen View Park
Veterans Memorial Park
Narciso Ramos Sports and Civic Center
Plaza de Lingayen
Lingayen Airport
Epiphany of Our Lord Parish Church (1575)
Cacupangan Cave
Binmatya Cave
Ara-saas & Sto. Rosario Cave
Balincaguin River
Timore Mountain
Parish of San Ildephonse (1699)
Church of Our Lady of the Most holy Rosary (1600)
Shrine of Our Lady of Manaoag
Virgin's Well
Manleluag Hot Spring
Immaltar Hot Spring
Manleluag Spring Protected Landscape
Pacalat Impounding Dam
Anthea Aerodrome
Kanding Waterfalls
Bisuor Waterfalls
Tangguyob Waterfalls
St. Raymund de Penafort Church
Burayoc Waterfalls
Pila Freshwater Resort
Viray Watershed Forest Park
Quibuar Springs
Guernica Hill
Presidencia Museum
Acop & Salvacion Dams
Our Lady of Rosales Grotto
Pangasinan Best Pasalubong Center
SM City Rosales
St. Dominic Guzman Parish (1587)
Nibaliw West Beach
Mabilao Beach
Bolasi Beach
St. Fabian Church (1716)
Butao Springs
San Roque Multi-Purpose Power Plant
Dipalo Water Falls
Botanical Garden
Holy Family Parish Church
Gawad Kalinga (GK)- Larioville (Leet)
Bigal House (former residence of Don Daniel Maramba)
Tomb of Don Daniel Maramba
Provincial Nursery of Santa Barbara

Antong Falls
Bantay Bato Falls
St. Peter Martyr Church (1835)
Cabalitian Island
Masamarey Beach
Mayaman Water falls
Mabuclao Falls
Limahon Cave
St. Patrick Church (1817)
Mt. Amoring Falls/Carasacas Falls
Caraballo Mountain
Paksayan Falls
Maseil-seil Agro-Tourism
Museo de Urdaneta
Cabaruan
Sugcong and Oltama Rolling Hills
More to tell and reveal about each and every tourist spots featured here as well as those secret Pangasinan resorts that you probably haven't heard of yet.
How to Get There Map for Pangasinan Resorts List

An essential part of getting to the right destination is by using a map. so here is a guide for you who is looking to find the perfect swimming venue for a Pangasinan resorts. Have fun under the heat of the summer sun. If you are looking for other places in the Philippines, you can check our list of major tourist spots and attractions.

View Larger Map