NLE Result November 2008 - Released February 2009
PRC has announced the official NLE Result November 2008 - Released February 2009 letter A-Z. The nursing exam took place simultaneously in Manila and provinces respectively. I have embedded the full list of nursing licensure exam passers from scribd. If you like, you can also view a version of the list from Manila Bulletin, Philippine Star, and Philippine Daily Inquirer at Inquirer.Net online news websites. Congratulations to all new registered nurses (RN) in the Philippines.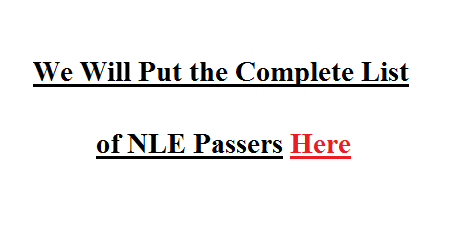 Complete List of Passers for the NLE Result November 2008 Examination

Below is the complete list of nursing board passers for the recently held NLE by PRC. They are arranged in alphabetical order.

NLE Review Centers for Passing the Nursing Board

Want to pass the nursing board exam? Consider taking up advance courses or refresher's course so you can get a notch ahead over the others. Enroll to any of our listed nursing board review centers below.

ACE Career Nursing Review Center – Baguio City, Quezon City, Manila, Muntinlupa, Lipa City
AEC International Review Center – Makati, Manila
Allgen Reviewers – Manila, Cebu
Assessment Technologies Institute Philippines, Inc. – Pasig, Manila
California English Language Center – Manila, Baguio, Cebu
Careerworx – Pasig, Manila
Carelink Asia Institute – Quezon City, Manila
Carl Balita Review Center – Manila, Baguio, Cebu, Naga
Center for Excellence in Nursing Education (CENE) – Manila
Center for Excellent Review Strategies – Manila
Center for International Language Academy – Makati, Manila
Center for International Pharmacy Program Inc. – Quezon City, Manila
Center for International Program – Quezon City, Manila
Comprehensive Medical Review Center – Manila
CRM Australian English Review Center – Makati, Manila
Cross Bridge Learning Center – Makati, Cebu
East West Educational Specialists -Manila
Edgeworth Review and Educational Center – Manila, Cebu, Tacloban, Mandaluyong, Quezon City
Entralink – Makati, Manila
Evoke Learning – Manila, Cebu, Davao, San Fernando
Ford Language and Review Center – Makati, Manila
Global Nursing Specialist Inc. – Manila
Global Workplace Reviews – Manila
Institute for Review and Special Studies (INRESS) – Manila
Intertrends Resource Corporation – Manila, Cebu
JAF Review Center – Manila
Sample Review Questions for Self-Review

Free NLE Review Questions / Test Questionnaire Samples

NCLEX Review Questions 1

NCLEX Review Questions 2