NLE Result December 2011 Exam - Released February 2012 A-Z Surnames
Complete list of passers for the NLE Result December 2011 exam - released February 2012 letter A-Z examinee / taker surname. The nursing exam successful Pinoy nurses was posted on scribd as a document for no hassle viewing and scrolling so you won't have difficulty trying to scroll down below if your surname starts with the letter P.
We will keep you updated on our own copy release as soon as a result is out this year, 2013. Upcoming NLE schedule of application in 2013 will also be posted in PRC board exam website. In the meantime, the oath taking ceremony requirements and details may be seen and is posted at the Professional Regulation Commission official website here - www.prc.gov.ph so visit them regularly for updates or read our blog in the sidebar. We might announce it there once out.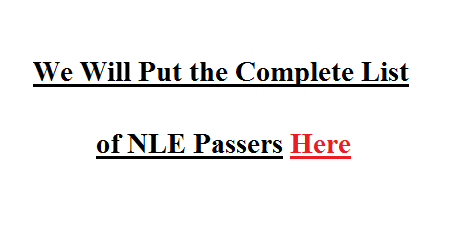 NLE Review Centers to Help Nurses Pass Exam and Be Included in the List of NLE Result December 2011 Passers List

This list of the following nursing board review centers in Manila, Philippines and surrounding provinces aims to help you take up review classes and advance as well as refresher's course to be able to pass the upcoming NLE which is scheduled in a yearly basis by the PRC nursing board. Good luck to all nurses and RN hopefulls.

ACE Career Nursing Review Center – Baguio City, Quezon City, Manila, Muntinlupa, Lipa City
AEC International Review Center – Makati, Manila
Allgen Reviewers – Manila, Cebu
Assessment Technologies Institute Philippines, Inc. – Pasig, Manila
California English Language Center – Manila, Baguio, Cebu
Careerworx – Pasig, Manila
Carelink Asia Institute – Quezon City, Manila
Carl Balita Review Center – Manila, Baguio, Cebu, Naga
Center for Excellence in Nursing Education (CENE) – Manila
Center for Excellent Review Strategies – Manila
Center for International Language Academy – Makati, Manila
Center for International Pharmacy Program Inc. – Quezon City, Manila
Center for International Program – Quezon City, Manila
Comprehensive Medical Review Center – Manila
CRM Australian English Review Center – Makati, Manila
Cross Bridge Learning Center – Makati, Cebu
East West Educational Specialists -Manila
Edgeworth Review and Educational Center – Manila, Cebu, Tacloban, Mandaluyong, Quezon City
Entralink – Makati, Manila
Evoke Learning – Manila, Cebu, Davao, San Fernando
Ford Language and Review Center – Makati, Manila
Global Nursing Specialist Inc. – Manila
Global Workplace Reviews – Manila
Institute for Review and Special Studies (INRESS) – Manila
Intertrends Resource Corporation – Manila, Cebu
JAF Review Center – Manila