NLE 2013 Result from June Examination, Released by PRC

The official NLE 2013 has been revealed and released by the Professional Regulation Commission (PRC) nursing board and My Pilipinas is one of the first to have the new and complete list of names of Pinoy RNS.
The Nursing Board is the one responsible for the latest announcement over the weekend. For those who are in the list, please stand by for any updates and announcement about the details on the oath-taking ceremonies and PRC ID. For the requirements, please keep posted by visiting the official website of the PRC at www.prc.gov.ph.
In the meantime, the blue underlined link below is where you can find the full list of names and surnames included in the board passers list from letter A-Z in alphabetical order. In our sidebar is where you can find different list of latest POEA approved nurse jobs abroad.

Congratulations to new Pinoy RNs!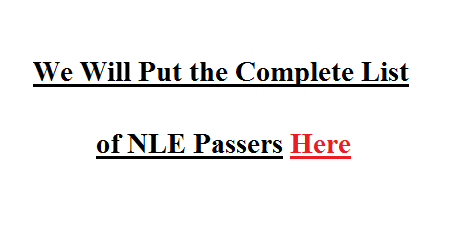 Complete List of NLE 2013 Passers from the Official PRC Website

Below is the respective list of passers for the 2013 nursing board exam result as released by the nursing board of PRC. This list is also found in their official website as well as many online news websites in the Philippines, namely, Philippine Daily Inquirer, Manila Bulletin, Manila Standard, Philippine Star, Sun Star and many more.