NLE Result June 2013 Exam - Released July by PRC
| | |
| --- | --- |
| | Here is our press release for the NLE result June 2013 exam which was scheduled to be released on July of the same year which has |
become a traditional time table for the Professional Regulation Commission (PRC). It is administered by the board chairman and its members yearly.
This PRC exam took place simultaneously in the provinces and cities of Manila, Baguio, Cagayan de Oro, Cebu, Davao, Iloilo, Legazpi, Lucena, Pagadian, Tacloban, Tuguegarao, Zamboanga, Angeles, Cabanatuan, Dagupan & Laoag respectively as dated on our announcement of the NLE 2013 official schedule. We have also featured some free sample review questions, deadline of filing to take the exam, 5-part coverage tips, subject areas in the test questions and the 11 key areas of responsibility which in there so don't forget to check that page out. You can also find a list of the exact topics covered by review centers in the Philippines and as the test appears on the sheet.

As soon as the official NLE results is released, here is where we will put the list of new RNs (registered nurses) in the Philippines who passed the licensure board exam.
Alternately, you can also see and find the full list of passers here - NLE result June 2013.

Complete Passers Alphabetical Order of NLE Result June 2013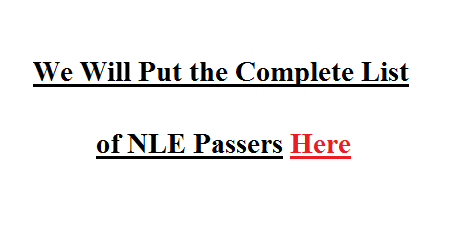 Philippines (NLE) Nursing Board Review Centers List
If you are dead serious about passing the nurse board in the Philippines, you therefore should take review and refresher's course from the best and popular Manila and provincial review centers in the Philippines. Just a tip though, ask for their review program first before you enroll yourself or else, you'll definitely be wasting your precious pocket money's worth if you don't know what you expect to learn out of paying to study and to learn.
Furthermore, if you have something you can hold on to as a written document promise by these NLE review centers, you have a strong chance at demanding for what you paid for.
If you feel or know that you didn't get what is expected, promised and written in the review program, you have every right to do the right action. There are many Pinoy nurses who brag about this and that review center offering nothing good for what they paid for but is not doing the right action and exercising their right to know what is and should be included in the review classes in the first place.
Mind you, this is a big mistake if you want to take a review seriously and want to know what you will learn. Don't just pay but pay for what you expect to learn in return for your money's worth. And don't expect so much more than what is promised! The actual exam is just a couple of months away and so is the official list of NLE result June 2013.

ACE Career Nursing Review Center – Baguio City, Quezon City, Manila, Muntinlupa, Lipa City
AEC International Review Center – Makati, Manila
Allgen Reviewers – Manila, Cebu
Assessment Technologies Institute Philippines, Inc. – Pasig, Manila
California English Language Center – Manila, Baguio, Cebu
Careerworx – Pasig, Manila
Carelink Asia Institute – Quezon City, Manila
Carl Balita Review Center – Manila, Baguio, Cebu, Naga
Center for Excellence in Nursing Education (CENE) – Manila
Center for Excellent Review Strategies – Manila
Center for International Language Academy – Makati, Manila
Center for International Pharmacy Program Inc. – Quezon City, Manila
Center for International Program – Quezon City, Manila
Comprehensive Medical Review Center – Manila
CRM Australian English Review Center – Makati, Manila
Cross Bridge Learning Center – Makati, Cebu
East West Educational Specialists -Manila
Edgeworth Review and Educational Center – Manila, Cebu, Tacloban, Mandaluyong, Quezon City
Entralink – Makati, Manila
Evoke Learning – Manila, Cebu, Davao, San Fernando
Ford Language and Review Center – Makati, Manila
Global Nursing Specialist Inc. – Manila
Global Workplace Reviews – Manila
Institute for Review and Special Studies (INRESS) – Manila
Intertrends Resource Corporation – Manila, Cebu
JAF Review Center – Manila
NLE Result January 2013 - List of Passers from December 2012 Test by PRC