NBI Ilocos - Requirements and NBI Online Application Fees

Giving complete location address and contact information of NBI Ilocos branch with their requirements and NBI Online Clearance application fees listed below.
ILOCOS REGIONAL OFFICE (IRO)

Office Location Address: NBI, Aguila Road
San Fernando, La Union

Telephone Number: (072) 888-2475 / 242-7415 / 242-7427

Email Address: iro@nbi.gov.ph

Regional Director – RICARDO S. PANGAN JR.

The requirements of any 2 Valid Identification Cards such as:
Valid passport   
Voter's ID   
Driver's License   
PRC License   
SSS ID   
GSIS UMID   
Postal ID   
School ID   
TIN ID  
Philhealth ID   
Authenticated Birth Certificate   
Alien Cert of Registration   
Senior Citizen   
Previous Copy of NBI Clearance
The NBI Clearance application fees range from P115 to P415 depending on the NBI Clearance Application Purposes.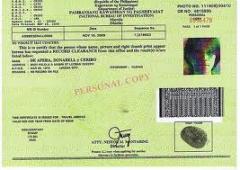 NBI Ilocos Guide Map and How To get There Information

Pinoy conveniently to locate the nearest of Ilocos NBI - Region 1 branch for their inquiries regarding the requirements and how to renew the nbi clearance. Just follow the guide map provided below.

View Larger Map