Time Converter - Philippines Military to Civilian Time Table / Chart

Time converter is of an essence for everybody. The same goes for Philippines and Filipinos around the world who want to know the equivalent military time to civilian time. Mostly, this can be used in times where military time is provided as part of a service, a schedule or a delivery to and from a specific place to another.
A good example would be flight schedule. So that you won't miss your flight, you have to understand military time. If you can't there is a way. Convert it to civilian regular clock time using a table. I happen to have it below for that purpose.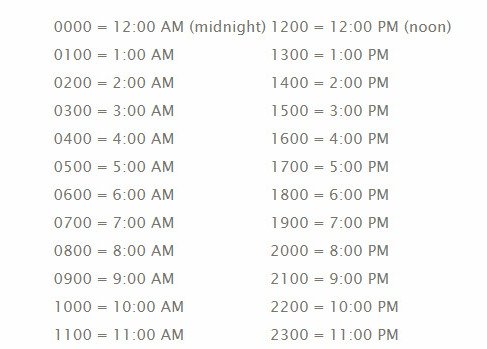 One of the most important standard conversion is the time converter. With the use of a standard table which most of us know but do not realize is how to convert military time to civilian regular analog clock time and there are a few times where we need civilian time table converter table because we need the reverse information.
The conversion table we have below will help you know what is the equivalent time for your flight schedule, swimming or CAT training, examination and other needs to have military time converted using a chart so you can map a schedule and know its equivalent in your regular generic clock time not the time zone.

| | | | | | |
| --- | --- | --- | --- | --- | --- |
| 0000 | = | 12:00 AM (midnight) | 1200 | = | 12:00 PM (noon) |
| 0100 | = | 1:00 AM | 1300 | = | 1:00 PM |
| 0200 | = | 2:00 AM | 1400 | = | 2:00 PM |
| 0300 | = | 3:00 AM | 1500 | = | 3:00 PM |
| 0400 | = | 4:00 AM | 1600 | = | 4:00 PM |
| 0500 | = | 5:00 AM | 1700 | = | 5:00 PM |
| 0600 | = | 6:00 AM | 1800 | = | 6:00 PM |
| 0700 | = | 7:00 AM | 1900 | = | 7:00 PM |
| 0800 | = | 8:00 AM | 2000 | = | 8:00 PM |
| 0900 | = | 9:00 AM | 2100 | = | 9:00 PM |
| 1000 | = | 10:00 AM | 2200 | = | 10:00 PM |
| 1100 | = | 11:00 AM | 2300 | = | 11:00 PM |