Philippine Fire Extinguisher - Types, Suppliers, Price and Where to Buy
Fire Prevention Month 2015 is March of each year. This time, Philippine fire extinguishers become a hot commodity. This is in lieu of following the latest Fire Safety Enforcement Manual of 2012.
Alongside this yearly observance of the Bureau of Fire Protection, free pdf downloadable materials like the Fire Code of the Philippines 2008 is made available for the public to download. You can get it at the official website of the BFP. But if are looking to buy either brand new or is looking for refilling services, you go to the nearest suppliers. We have the list below.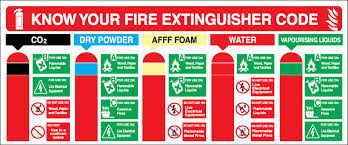 Types of Available Philippine Fire Extinguishers and Accessories for Sale in the Market

Types:
HFC 236
HCFC 123
Dry Chemical
Nitrous Oxide
Carbon Dioxide
Brass Soda Acid
Air Pressurized Water

Pyro-Medic Carbon Dioxide

Aquaeous Film-Forming Foam
Accesories:
Fire Hose
Fire Hose Cabinet
Fire Extinguisher Seal
Fire Extinguisher Hook

Photoluminescent Fire Extinguisher Sign

Types of Fire Extinguishers Based from Usage

So far, using online research, I've only seen 2 types based from use. It's either a building fire extinguisher (business and homes) or a vehicle or car fire extinguisher. Either which, you can buy them in used price or second hand cheaper price or brand new which comes a bit costly. On the other hand, refills are also available or if you have your own canister or cylinder, you can always bring that to be refilled or for pick up by any servicing fire extinguisher company in Manila, Philippines.

Philippine Fire Extinguisher Sizes and Weight Class Units Available in the Market

Different fire extinguishers in the Philippines come in different sizes and weight specifications. If you wanted to buy one that fits for where you will put a unit, you have to consult with a distributor in your area. It is highly suggested that you buy from local distributors to avoid refilling problems and inconveniences but if you are looking forward to a long term supply and business relationship with a provider, you can always take that risk. Companies today offer the convenience of home service when refilling units and canisters or tanks. To give you a tip on what to buy for perfect placement, below is a sample list of weight and size fire extinguishers can be bought in the market today.

Weight and Size of Fire Extinguishers Available:
5 lbs
10 lbs
15 lbs
20 lbs
50 lbs
100 lbs
Companies, Distributors, Refillers, Accessory Sellers and Contractors of Philippines Fire Extinguisher

In the Philippines, there are a few big time fire extinguisher contracting companies that offer both selling brand new and refill fire extinguishers. With respect to label, I'm pretty sure you've read either ABC, Diamond, BNQI, Bronco, Anzen, Falcon, Fire Control, Petronas and many more. There are also imported brands and small local players and distributors of fire and safety equipments like fire hydrants, fire pumps, alarm systems and fire alarm switch. To find one, you can either go to local online classifieds like AyosDito or Sulit (OLX).