Philippine Celebrities - Pinoy and Pinay Artists & Filipino Personalities
The men and women in the Philippines - our list of Philippine celebrities, both pinoy and pinay celebs directory where you can find your favorite, popular, top 10 richest, most beautiful, most handsome Filipino actors and actress, most popular artists, highest paid and celebrity today.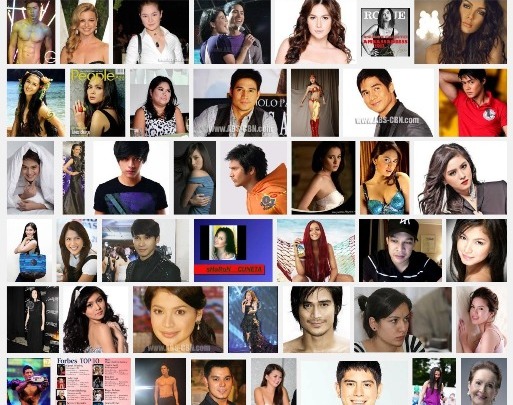 Here is where we will list down our choice of most beautiful celebrity houses, the scandals they've been involved as well as actress and actors in the Philippines who have excelled in acting stints and made it to the Famas, MMFF and other award-giving bodies as best actors and actresses.
If you are interested who gets paid the highest, we will also be listing the richest celebs and their life behind the camera updates. Personal Facebook page profiles, tweeter accounts, instagram photos, trending hash tags, real names, bio and wiki articles, latest celeb news and updates, movies and filmography, albums and songs for singers, modelling appearances and sponsorships, shows, tour and appearance schedules, teleseryes, awards won and received, current love life and showbiz partner (love team), birthdays, hottest and most popular love teams, teen celebrities and more. You can find a list of top 20 filipinas here - http://www.therichest.org/entertainment/most-beautiful-celebrities-in-the-philippines/.

Richest Filipino Celebrities

Although by definition of richest Filipino celebrity might mean to be based in assets and liabilities, there is no way we can judge therefore who has the most. Setting aside this base figure, all that is available therefore leaves us with one more accurate figure to which we can base the status of a Pinoy or Pinay celebrity if they can be categorized as top or richest among others in their field and that is - tax declaration figures. It so happened that the last leaked data would reveal that which is back from a 2010 BIR tax declaration of the highest income earning people in the Philippines. See an initial list below.
Top Earning Highest Paid Philippine Celebrities in 2010

Willie Revillame (No. 21) earned P82 million in 2010 and paid P26.5 million in taxes.
Sharon Cuneta (No. 58) paid P16.6 million in taxes after earning P52 million.
Sarah Geronimo (No. 67) paid P14.8 million in taxes from her earnings of P46.4 million in 2010.
Piolo Pascual (No. 76) paid P13 million in taxes after earning P49.8 million.
Marian Rivera (No. 86) had a total taxable income of P37.2 million, for which she paid P11.8 million in taxes.
John Lloyd Cruz (No. 95) earned P34 million in 2010 and P10.9 million in taxes.
Claudine Barretto (No. 99), who earned P33.4 million and paid P10.6 million in taxes.
Boy Abunda (No. 134) paid P9.2 million in taxes after earning P29 million.
Manny Pacquiao (No. 135) earned P504.5 million and paid P9.1 million in taxes.
Judy Ann Santos (No. 211) had earnings of P19.9 million and paid P6.3 million in taxes.
KC Concepcion (No. 229) earned P18.9 million and paid P6 million in taxes.
Jericho Rosales (No. 236) had a taxable income of P18.77 million and paid P5.9 million in taxes.
Dingdong Dantes (No. 237) earned P18.75 million and paid P5.9 million in taxes.
Gerald Anderson (No. 336) earned P16.1 million and paid P5.1 million in taxes
Carmina Villaroel (No. 357) earned P15.5 million and paid P4.9 million in taxes.
Mel Tiangco (No. 370) earned oP15.1 million and paid P4.8 million in taxes.
While ABS-CBN revealed this list back in 2010 from here - http://www.spot.ph/the-feed/50825/kris-aquino-is-highest-paid-celebrity-according-to-birs-list-of-top-500-taxpayers-for-2010/. Another list revealed from the official BIR top 500 individual tax payers in the Philippines for tax year 2010 states that Kris Aquino is the highest paid Pinay celeb, Manny Pacquiao topped them all back a couple of years ago. He was even included in the top 10 list of top paid athletes in the world next to Michael Jordan as revealed by Forbes Magazine but in 2012 became 2nd highest paid athlete next to the top paid who is Floyd Mayweather. You can view the complete list here - http://www.forbes.com/sites/kurtbadenhausen/2012/07/11/worlds-highest-paid-athletes-behind-the-numbers/.

---
Top Pinay Celebrities

Our top Pinay celebrity list will contain the most loved, most popular and somehow the best and most beautiful body sexy Filipina celebs in our own criteria basis only. Their respective accounts with social networking sites will also be included here as well as their official (or unofficial) Facebook Fan Page and wiki bio and filmography / movies list. Birthday and name in real life will be revealed and if possible, their life-loved stuff will come exposed too.
Top Pinoy Celebrities

Our top Pinoy celebrity list will include a comprehensive listing of all the most-loved and handsome celebs in the Philippine television only. We decided to feature only actors who have exceptionally floated out to be the Adonis in Philippine celebrities showbiz arena today.

Celebrity Houses Featured

Photos of Philippine Celebrities

If you are searching for handsome Pinoy actors and beautiful and sexy Pinay actress in the Philippine celebrities list in showbiz, you'd definitely also want to see a picture of her or him. Therefore, here is where we put that collection. See for yourself.

Popular Youtube Videos