Fast Car Loan Philippines - OR CR Collateral Only & Without Taking your Car
More than a motorcycle loan in the Philippines, car loan can definitely raise your fast cash needs to a level high with respect to expecting a bigger amount to borrow from a bank or a private lending company. There is a big difference though when it comes to interest rates and processing fees as well as the set of requirements needed to qualify to apply and be given credit without taking your car.
FOR FAST APPLICATION, FILL UP OUR ONLINE FORM BELOW
Yes, these days, the car loan system in the Philippines has drastically changed. Lending companies as well as banks have already disregarded the inconvenience of applying for this big cash loan by using your auto as the collateral. There is no longer a need to use it.  This is called as the OR CR loan only where there is no need to impound or to use the car takeout option. On the other hand, it is not totally disregarded. In fact it has become an option for the borrower.
If you choose to apply for the car takeout instead of the OR CR collateral only, I believe you will get the extra benefits as the vehicle owner but what's better than using your car for business or personal purpose and still get cash out of it? Otherwise, you will have to make sure that all your documentary requirements are present. You can see my list below.
9 Car Loan Requirements and Pre Qualification Details

If you want your credit application to get approved fast, there is only one thing to do. Provide and pass the right and authentic requirements only. Another way to help yourself make sure you will get your loan quick is to read tips on pre-qualifying for the said loan. Remember that this type of credit may also be named and called different by applicants, consultants and agents alike.
However which way you want to call it, it all depends on where you will use the cash out money upon getting approved and receiving your loanable amount based from the loan calculator which may be found online like from the company website where I work as a loan consultant. Yes, I do help my daughter write on this website so she doesn't even need to interview me anymore to be able to get the necessary information about the loans Philippines.


Car model 2000 and newer
LTO blue form stencil of motor and chassis number (to be accomplished at the lending office by an account officer)
Xerox and Original copy of OR CR (official receipt / car registration)
Original TIN ID (tax identification number)
Latest picture of the vehicle (to be accomplished at the office by an account officer)
Proof of income or 3 months latest pay slip + COE if owner is employed
Mayor's business permit and barangay business permit if owner had a business as source of income + 3 months latest bank statement
3 months latest remittance receipt + 3 months latest bank statement if owner of car has money transfer from abroad as source of income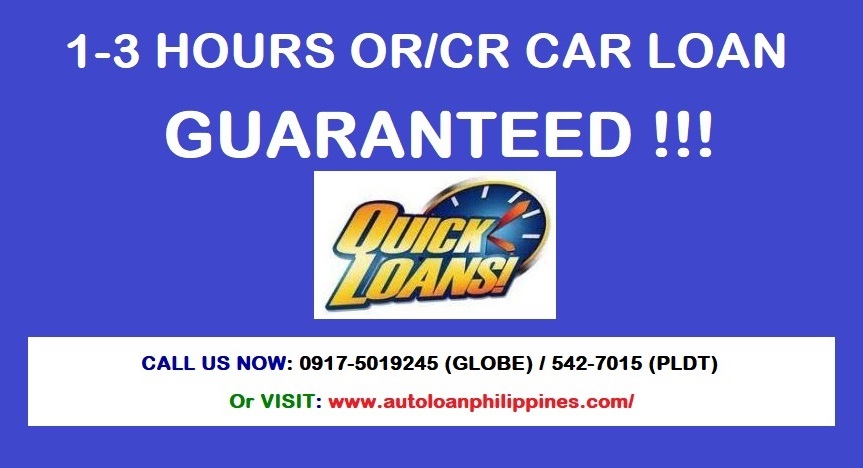 Please note that other documentary requirements may be required by the lending company so be sure to comply with the list above and pass only authentic documents and papers of the auto to maximize the approval rate of your car loan.

Uses for your Philippines Car Loan and Other Names We Call it

Fast Cash Loan


Quick Cash Loan

Personal Loan

Tuition Fee Loan

Housing Loan

Visa Loan

No Collateral Loan

OR CR Without Taking Your Car

Why and how I came up with these other names and uses for our no-collateral car loan in the Philippines is simply because many borrowers still didn't know and realize that when they apply for this kind of loan, it is actually up to them where to use it.
Therefore, if the money you will get will be use for school tuition fee, then, by all means, you can call it as tuition fee loan. Same thing goes for other colloquial names people and borrowers call the auto loan or didn't know that it can be used and called as one.
Get a copy of my official car loan application form below if you think you have the right documents as listed above and if you can pass the pre-qualification factors.

CAR LOAN APPLICATION FORM DOWNLOAD

Loan Processing Time / Duration of Application

Basically, there are only 2 factors that determines your car loan processing time or duration before you get your application approved and cash loan given to you. That is the place where your car is registered and the documents you will submit as requirements.  Provided that you have the complete, right and authentic documents submitted to the lending company, below is the processing time frame for approval.

If you have a car that is registered in Metro Manila and you are applying for a loan within the area, it will only take you as much as 48 hours before release of the loan.
If you have a car that is registered in provinces and you are applying for a loan in Manila, a 72 hour loan release is on hand.
The time difference is obviously due to the processing of your requirements and cross checking with the LTO branch where your car is registered (OR CR Authentication Issues). Therefore, it is strongly suggested that if your car is registered in a place, try to look for a branch of the lending company that you can have your car loan processed. With this problem we have just the right solution. The lending company with which I am currently working a freelance loan consultant is based in Makati City. If you pass your requirements to me, I will have it forwarded to our branch but the processing will take place where you and your car is most conveniently located.
As an example, I have previously helped process an auto loan in Pampanga where the owner and the car is located. Had the papers passed on to the branch where I work and endorsed later on to Pampanga. Simple as that. See our branches list below.

LOAN COLLATERAL:
Original OR/ CR only

INTEREST RATE:
2010-2018- 1.25% per month
2000-2009- 1.5% per month

PROCESSING FEE:
5.5%

LOANABLE AMOUNT:
Php 50,000.00 up to Php 1 million (or an equivalent of 70 to 80% of the appraised value)

LOAN PAYMENT TERMS:
6-24 mo. (can be extended up to 36 months but is subject for approval)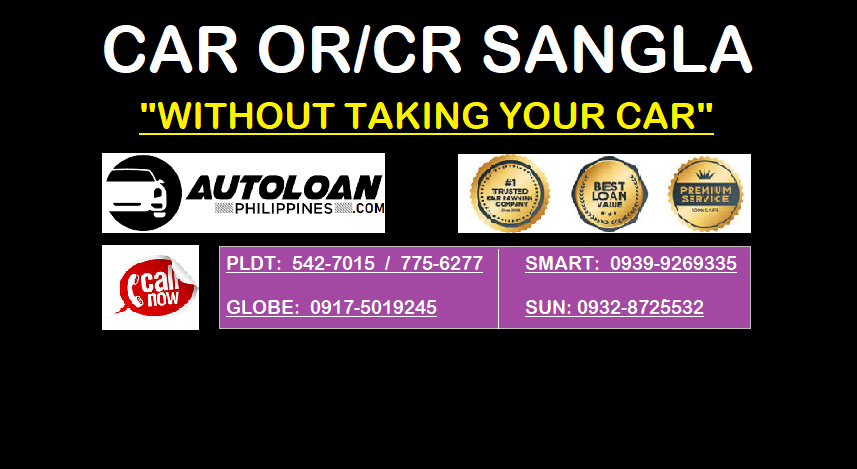 Our Lending Company Branches All Over the Philippines

Ortigas Center Pasig City
Makati Yakal cor. Talisay Street San Antonio Village
Harrison Plaza Kiosk (accepts application)
Ermita Manila in Mabini Street
Baguio City Upper Session Road
La Union Kiosk in San Fernando
Urdaneta in Mc Arthur Hiway Pangasinan
Cabanatuan Maharlika Hiway Nueva Ecija
Gapan Nueva Ecija
Pampanga Mc Arthur Hiway in Dolores, San Fernando
Olongapo Rizal Avenue West Bajac bajac
Baliwag Poblacion in Bulacan
EDSA Centris Quezon City
Las Pinas Alabang Zapote Road
Cavite in Aguinaldo Highway Barangay San Agustin 1, Dasmarinas (Dasma)
Cebu in Osmena Boulevard cor. Jakosalem, Cebu City
Iloilo in Huervana cor. Rizal Street, La Paz
Bacolod Branch in Lacson Avenue
Cagayan de Oro in Corrales Street
Davao Branch in Pichon Street
Great buy Dagupan in MH del Pilar Street, Dagupan
Alabang Muntinlupa area
Imus Cavite
Calamba Laguna
Lipa Batangas
Dumaguete
Tagum
Amortization schedules will be updated upon release of the loanable amount while for those who are looking for bank car loan, I suggest that you come looking around and maybe you will find a better deal or lowest car loan rates than what we have here.
You can also ask me for car refinance loan or if you have a bad credit status and let's see what I can do to get you going. Otherwise, you have a choice to either visit other options to apply for credit by reading our page about Loans Philippines or you can talk to me using my contact details below so I can have you talk it out with the right people who can help you understand if you can qualify or not to apply for our car loan in the Philippines and know outright to avoid wasting time. Talk to me now or send me a message using my contact details below.


To add up to my contact numbers, you can also call me to inquire for your car loan at my new Globe postpaid cell phone number here - Globe - 0917 - 5019245.
You may also visit an official Facebook Page about Philippines Loan for updates and other types of loans.
Other types of loan we offer are tricycle loan, jeepney or puj loan, puv loan or taxi loan, truck loan and housing collateral loan and the 1-day release seaman loan.

Other Types of Loan Products

Aside from the car loan which is by far the biggest cash loan turnout of all popular types of cash credit in the lending business in the Philippines, there are actually more options in applying for such. To apply, please visit the links below.

Real Estate Collateral Loan