Business Franchise Philippines Ideas - Choice of Top Opportunities and Investment Type Directory Guide

Business franchise in the Philippines has significantly showed growth in the past couple of years. The Pinoy entrepreneur shifted investments on small business ideas and micro financing joint venture like the food cart franchise and because of this, more and more ideas and opportunities continue to evolve and mushroom out of trends in the market from rental stalls, malls to markets and now down to busy community streets through small carts occupying only a small space, most of the time is free of rental cost.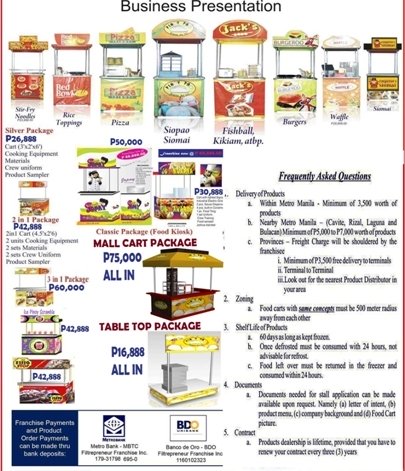 A food cart franchise is the top and cheapest option, therefore, if you only have a small venture capital to open for a startup business franchise, this is your best choice. We have a list of the different available cart-type franchising investments below. Please see and visit each link to read more information.
Do note, however that, even though most would offer the convenience of a fully functional and independent system from the franchise owner, it is still best to make your own market study before investing. Commonly, most of these types of small business offer the convenience of managing your own while minimizing on system and process of needing to hire extra employees to help fill the gap of manpower management. Keep in mind that you have the choice to outsource raw yet cheap labor but you'll always need to come up with a safe management system. Money is not an ordinary thing to invest for something you do not have control over and this is the hardest part for a business franchise in the Philippines.
All you have to do here is manage and market and improve your selling system be learning from your own experience. Allow me to introduce what variety of options and choices you have as a franchisee or investor for a foodcart business idea. See my list below.
Food Cart Business Franchise Directory

Street Food
Vending Machine
Ice Cream
Siomai House
Dumplings
Sisig
Ice Scramble


Siopao
Pizza
Kiosk
Milk Tea
Waffle
Juice
Shawarma
Combination Cart

For more Philippines business opportunities in the market, please navigate to our specific review page as listed in the link above or see major by the million franchise investment offers below from some popular fastfood chains, food and beverage dine-in businesses and restaurants.

List of Major Franchise Available in the Philippines
Below are only some of the biggest role players in the Philippine business franchise industry. Most of them are open for franchising investment. Just click on a link to find out how much fees, cost and other charges for opening a branch as well as how to process a franchise application and what are the requirements and other needs to qualify as a franchisee.

Mc Donalds

Mang Inasal

Chowking

Red Ribbon

Goldilocks

Hotel Sogo

Greenwich

Pizza Hut

Krispy Kreme

Western Union

Coffee Shop

Lotto

Mr Quickie

Brothers Burgers

Rapide Auto Service Center

White Hat Frozen Yogurt

Petron

Mini Stop

Video City

Bayo

Time Depot

Gonuts Donuts

Sea Oil

Facial Plus Derm Strata

Figaro Coffee Shop

Kameraworld

Balay Bacolod Chicken Inasal

Cabalen

Unioil

Zagu
SereniTea
Andoks
Sr Pedro
Jo-nis
Photobooth
Shakey's Pizza
7 Eleven
CDR King
KFC
LBC
Dunkin Donuts
Chic Boy
Nacho King
Kumon
Mr. Frosty
Snowpy Ice Cream
Caltex
Freeway
Save On Surplus (SOS)
Dairy Queen
Exelsior His & Her Spa
Monterey
Odyssey Music Store
Toby's Sporting Goods
Bioessence Facial Clinic
Domino's Pizza
Informatics
Aristocrat Restaurant
Dencio's Restaurant

Fast Rising Popular and Cheap Franchise

Pinoys who are looking to invest in a business franchising scheme who have little investment money available can now get a chance to have their own small business. With this list of small and medium enterprise franchise investment, there are bigger chances of higher return on investment with little capital involved.
Our list span from initial capital of hundred thousand to 1 million pesos and at time may even require a little more. But since this list contains fast rising popularity in the industry of business franchising in the Philippines, chances are, you are assured of a fast recovery and ROI.